Building a Diverse, Equitable, and Inclusive Workforce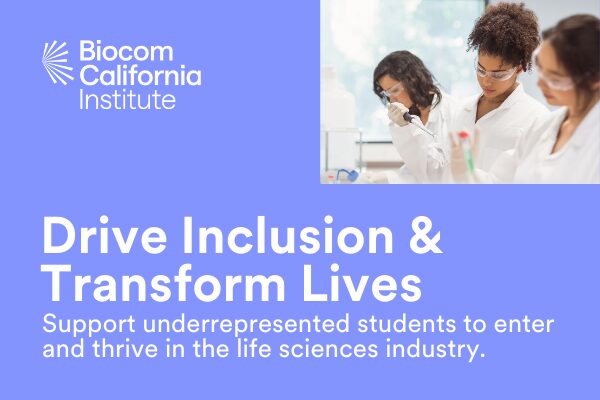 Biocom California Institute is a 501(c)(3) organization established in 2008 by Biocom California, the leader and advocate for California's life science sector. Our mission is to develop and promote a skilled and diverse pipeline of talent to accelerate the growth of California's life science ecosystem.
Life Science XP
Life Science XP provides K-12 students and teachers engaging, hands-on learning (students), professional development (teachers) and industry experiences in the life sciences. Our school, industry, and collaborative experiences are designed to enrich K12 science programs, empower teachers, and inspire the next generation to pursue careers in the life sciences. Our experiences are provided to Title I Schools in underserved communities at no cost. Life Science XP features the following experiences:
For the school experience, classrooms not only receive lessons aligned with Life Science Next Generation Science Standards (NGSS), but every student is provided a hands-on learning kit that helps further illuminate the lesson, and teachers are provided pre- and post- learning resources. Additionally, classrooms see a keynote speaker visit, or panel, from the industry that shares their journey to their current career, their background, and helps strengthen the students' understanding of the life sciences.
The industry experience connects classrooms with guest scientists, industry experts, and career panels to help foster career explorations and discuss real world life science and biotech topics. The industry experience also provides the opportunity for teachers to take advantage of externship opportunities, and have their classrooms take a virtual, or in-person industry tour.
Our collaborative experience offers the opportunity for connection and networking with industry partners, nonprofit organizations, and other K12 districts/schools around K12 biotech innovations in education. This collaborative experience is delivered via education symposiums, webinars, and an engaged online community group.
Life Science Young Leaders
Biocom California Institute is helping underserved students start their careers in life sciences. We are committed to removing barriers and connecting underrepresented students with mentoring, training, and work experiences that will prepare them for in-demand jobs in the life sciences.
The Life Science Young Leaders High School Summer Internship Program provides high school students invaluable summer internships at leading life science companies or research institutions. There the students receive exposure to, and a deeper understanding of, careers in the life sciences. Students receive pre-internship training that covers lab skills, lab safety, and professional skills, and connection with mentors for questions, direction, and feedback.
The Life Science Young Leaders College Internship Program is a paid internship for college students at a leading life science company or research institution. These internships, which take place throughout the year and can be part or full time, provide critical hands-on experience and practice with technical workplace skills. The college students receive training in soft skills (communication, teamwork, leadership, and more), as well as exposure to different types of career roles on cross-functional teams. The students also receive the opportunity to build their connections and networks by attending meetings and exclusive industry events.
There's no more pivotal moment in an individual's career than the transition from college to the workforce. That's why Biocom California Institute created the Life Science Young Leaders Fellowship Program– to help create a successful pathway for first-generation college graduates to gain employment in the life science industry. Over the course of a lifetime, the average college graduate makes $1 million more over a career than a worker with a high-school diploma. Yet that powerful advantage only pays off if graduates find college-level jobs. First-generation college graduates are particularly vulnerable to underemployment due to reduced access to job market information via informal advising or social capital networks; and racial/ethnic discrimination and unconscious bias in recruitment and hiring.
The Life Science Young Leaders Fellowship Program provides a cohort of first-generation college graduates with mentorship from life science professionals, career exploration series panels, a career fair, and a life science workforce symposium. The cohort is immersed in professional development modules and work readiness trainings (resume writing, building an effective network, interview training, and much more). Additionally, the first-generation graduates also receive access to networking events and in-person and virtual social outings to help round out their life science industry knowledge and connections.
Career Lab
Many employers are stepping up their efforts to build a diverse, inclusive, and equitable workforce. Biocom California Institute recently launched the all-new Biocom California Institute Career Lab, California's first resource for life science job opportunities, career success stories, thought leadership, and industry resources. The Career Lab is helping employers recruit a more diverse workforce. We partner with professional associations, student groups, and minority serving institutions to identify and promote talent from underrepresented groups.
Veterans In Life Sciences
Active duty and veterans are an important part of the economy, and their various skill sets and commitment to mission are particularly aligned to careers in the life sciences. However, there is a disconnect between this important talent pool and their ability to obtain high quality jobs in our region, forcing them to seek employment in other areas of the US. Biocom California Institute assists our veteran population through our Veteran's Initiative program, which includes a yearly workforce symposium, career fair, and a Military Career Exploration Fellowship designed to provide them with industry contacts, networking opportunities, work-readiness training, and professional development. For so many Veterans, simply gaining understanding of the opportunities available in the life sciences propels them to remain and thrive in the workforce after their service. Biocom California Institute provides this innovative, unique opportunity at no cost to the participants.
For more information on Biocom California Institute, please visit our website at www.biocominstitute.org. Connect with us on LinkedIn, Facebook, and Twitter (@BiocomInstitute).
Biocom California Institute is committed to making life science accessible to everyone, especially those with limited access to science. Please consider a tax-deductible donation or sponsorship today. Donate Today