Generation STEAM Programs
San Diego Festival of Science and Engineering
The San Diego Festival of Science and Engineering is the largest STEAM Festival in Southern California. The Festival began 16 years ago primarily science and engineering-focused, with a goal to provide experiential activities in these fields to diverse populations. The overwhelming success of the formative years of the Festival proved to be a catalyst for what the Festival would swiftly evolve into – a comprehensive San Diego County community event that celebrates the diverse cultures, communities and populace of San Diego, and works to inspire the curious young minds of our region to become tomorrow's STEAM leaders.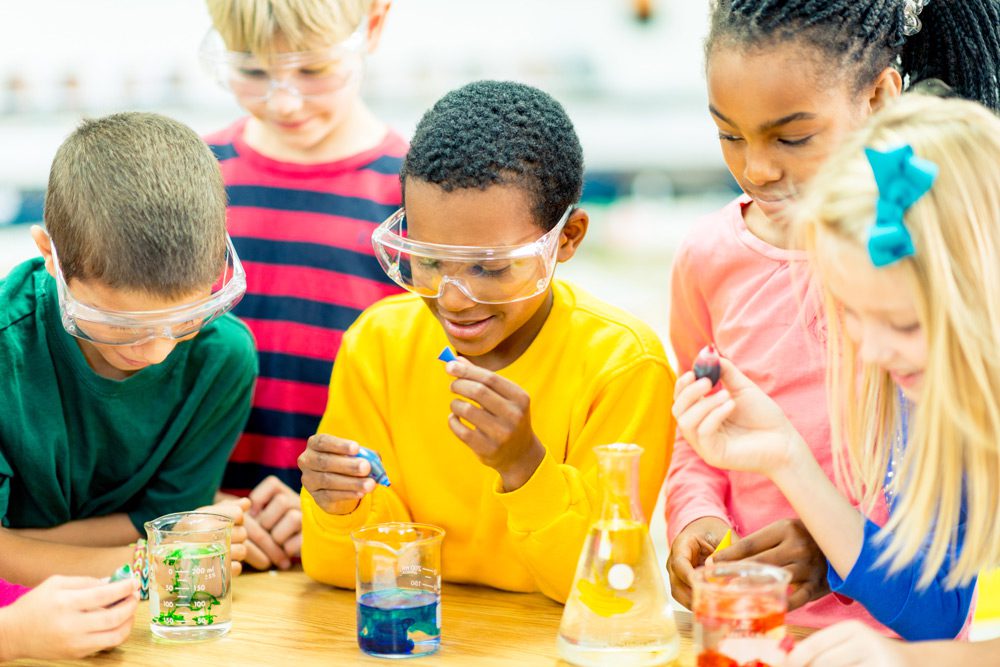 Pathways-to-STEAM
Pathways to STEAM
Pathways to STEAM empowers students and teachers through various education and enrichment opportunities including mentorship, internships, and career connections. Our year-round mentorship programs connect students with experienced STEAM professionals who provide guidance on resume building, interview preparation, securing internships, and more. We also offer summer internships focused on genomics, allowing high school students to expand their knowledge in this field. Additionally, we facilitate STEAM career connections through company tours, career panels, teacher professional development sessions, and teacher externships.
Life-Science-Innov8Ed
Life Science Innov8Ed
Through Life Science Innov8ted, we address the community need for hands-on learning experiences and career preparation. This is a multifaceted program that delivers hands-on science labs and lessons to underserved and Title 1 schools across San Diego County, impacting 10,000 students each year with hands-on kits and lessons, as well as providing connections to local life science professionals in the form of career panels, teacher and student company tours, celebration events, and teacher professional development.
In addition to these hands-on lab experiences, an additional 200 students from local high schools serve as biomanufacturing interns, gaining invaluable experience and skills.
The high quality curriculum developed for this program includes a wide variety of topics including protein purification, bacterial transformation, enzyme reaction, ocean acidification, pipetting, and genomics.
Women-Who-Inspire
Women Who Inspire
Each year on International Women's Day, 200 high school girls from San Diego Unified School District attend the Women Who Inspire Conference to gain industry exposure and hear from experts in a variety of STEAM topics. Industry companies and community organizations have the opportunity to apply to host a workshop during this day long conference.
The program sends an inclusive message about what makes a successful STEAM professional and encourages the young women in attendance to pursue their interests in STEAM.
Girls-Who-Lead
Girls Who Lead
Each summer, high school girls from across San Diego join us for one week in August to visit various STEAM companies, receive leadership training, and participate in career exposure workshops.
The industries we highlight most; life sciences, technology, and engineering are thriving as some of the largest sectors in San Diego and boast some of the highest paying and fastest growing job markets in the region.
Throughout the week, girls have the opportunity to see themselves reflected in the professionals they meet as they learn in depth, real-world steps to take in order to transition from a STEAM student into a successful STEAM professional.
Life-Science-Station
Life Science Station
In partnership with Chula Vista Elementary School District, this experience combines in-class learning with a day-long field trip to the Life Science Station. Every 4th grade student in the district will engage in hands-on activities, personalized career exploration, and engineering design challenges to become immersed in the life science industry.
Corporate-Engagement
Corporate Engagement
We recognize the significance of corporate engagement in fostering a sustained level of excitement for innovation in the minds of young people. At Generation STEAM, we firmly believe that it is the collective responsibility of the STEAM ecosystem to inspire this enthusiasm. Through active corporate engagement, we aim to create a strong bond between the life science industry and education, driving the exploration and embrace of science, technology, engineering, arts, and math in our community. By forging collaborative partnerships with industry professionals, we empower young individuals and ensure a future filled with endless possibilities, where their unique skills and passions can thrive in the world of STEAM.
Companies are invited to support the community through:
Tours for teachers and students
Company wide volunteerism
Career panels and classroom visits
Mentorship of students
Internships and teacher externships
Event volunteers, speakers, and moderators
Schools & Teachers
We understand the pivotal role educators play in shaping young minds and inspiring a love for science, technology, engineering, arts, and math. Through our dynamic professional development programs, curriculum resources, and ongoing support, we empower educators with the tools and knowledge they need to create innovative learning experiences that ignite curiosity and prepare students for success in the digital age. Join us in empowering educators to inspire the next generation of STEAM leaders.
Get Involved