The Largest and Most Experienced Advocate
For over years, Biocom California has helped move the life science industry forward with transformative resources that enable companies to make meaningful connections. Biocom California harnesses the collective power and experience of the most innovative and productive life science clusters in the world, with powerful advocacy and transformative programs to help companies in their quest to improve the human condition.
Locations
Biocom California has locations in San Diego, Los Angeles, the Bay Area, Washington, D.C., and Tokyo. Each Biocom California location utilizes targeted initiatives and custom-tailored programs to give area members best-in-class resources for their unique needs.
Biocom California Leadership
Deeply Rooted in Public Policy
Biocom California works on behalf of over members to drive public policy, build an enviable network of industry leaders, create access to capital, introduce cutting-edge workforce development and STEM education programs, and create robust value-driven purchasing programs. Biocom California provides the strongest public voice for research institutions and life science companies that fuel the California economy.
Teamwork
We endeavor to provide the highest value to our members.
Commitment to Service
We take joint responsibility in all that we do.
Passion for the Cause
We believe in the mission of the life science industry.
Innovation
We evolve to address the changing needs of our community.
Striving for Excellence
We go the extra mile to exceed our goals.
Biocom California provides five main categories of service –
our pillars – to our members.
Strategic Global Presence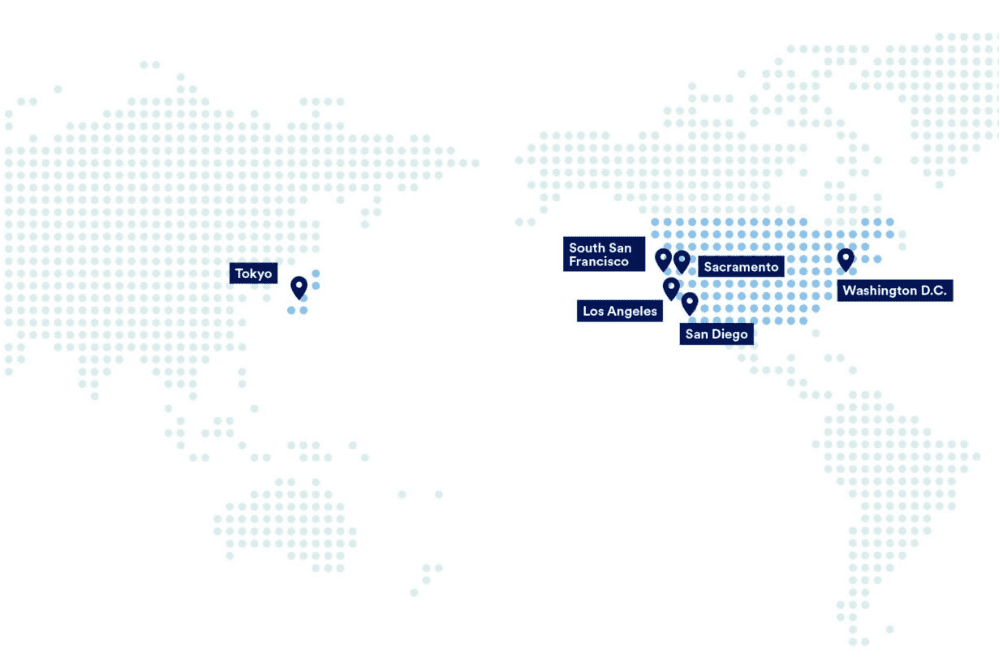 Quick Facts
Corporate Status: 501(c)(6)
Founded: 1995
Number of Members: +
Number of Employees Across Organization: 52
Locations: San Diego, Los Angeles, Bay Area, Washington, D.C., Tokyo, Sacramento
Number of Events/Year: 250+
Number of Board Members: 60
President and CEO: Joe Panetta
International Collaborating Partners: EuroBioMed, Japan BioIndustry Association, LINK-J, One Nucleus, AusBio, City of Kobe, City of Yokohama
Biocom California PAC (Political Action Committee): CA ID #963088
Registered Lobbyists: Yes
Member Demographics: Life science, pharmaceutical, medical device, bioinformatics companies, contract research organizations, academic institutions/research institutes, service providers, and investment firms
Membership ranges from life science companies with under 10 employees to those with 500+ employees, as well as service providers. Biocom California annual membership benefits transfer across all office locations in California.
Biocom California Institute: A 501(c)(3) providing programs in workforce development and STEM education programs for students.
Generation STEAM: San Diego Festival of Science & Engineering
Become Part of the Biocom California Team
We are always looking for talented professionals to join our team. If you wish to be considered for any future positions, please submit your cover letter and resume to [email protected].