Advocating for a growing biotech ecosystem in a thriving community.
Biocom California's advocacy work began in San Diego, where we have continued to push for consistent, reliable access to water and other utilities since our founding in 1995. We advocate for land use and zoning policies that identify areas for future life science developments along with predictable and timely permitting processes. We support sustainability measures that take lab processes into account and assess current available infrastructure, along with improvements to storm channels, transit networks, and middle-income housing construction.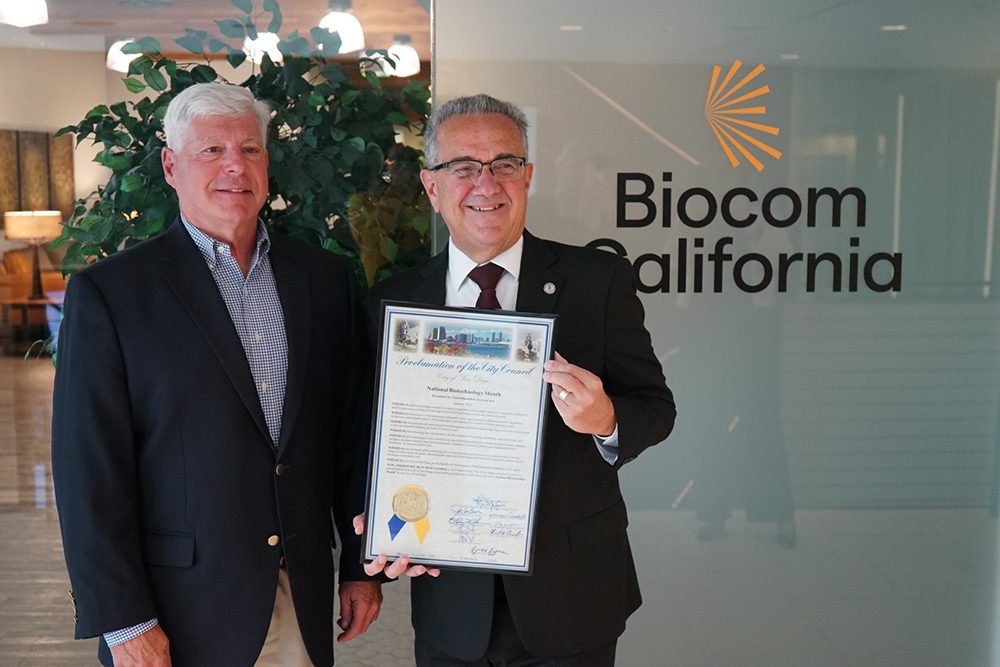 National Biotechnology Month Proclamation
Biocom California would like to thank Councilmember Joe LaCava for his ongoing partnership and for stopping by our headquarters this June with a proclamation for National Biotechnology Month, which happened in January.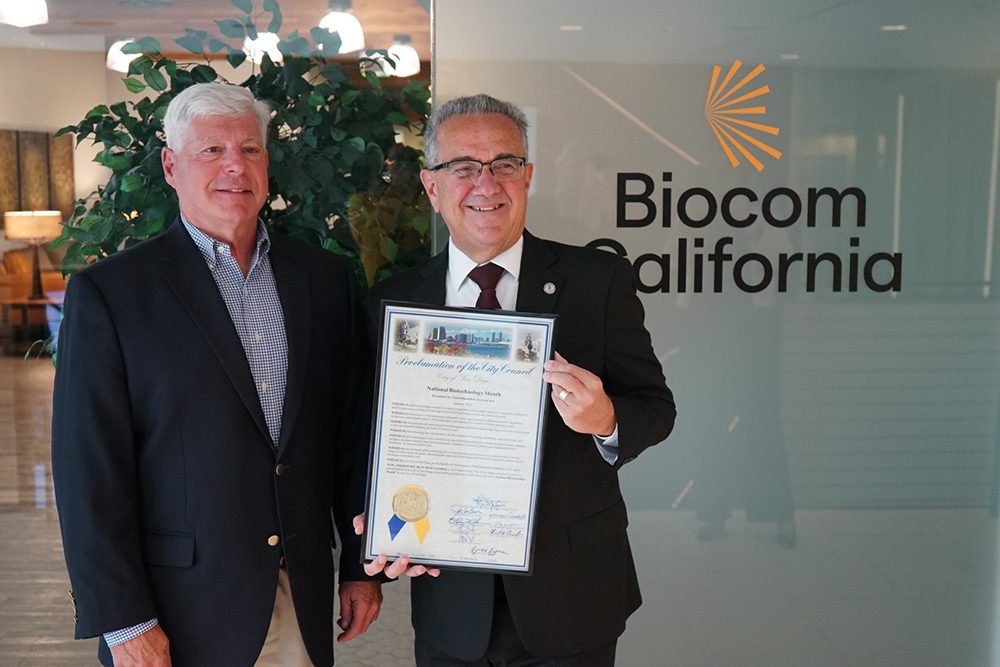 water
Access to Water
Since its inception, Biocom California has communicated with legislators and regulators about how the life science industry uses water, and why reliable, constant access to water is necessary for our member companies to conduct daily business activities.
zoning
Land Use
Biocom California supports land use policies that encourage industry growth such as land for R&D and manufacturing, mixed-use zones that allow for lab space, and increased density on life science campuses. These land development tools are vital to regional economic stability and accommodation of industry growth in a region where land for life science is becoming increasingly scarce. Land zoning plans can also provide space between industry and housing to avoid compatibility conflicts where appropriate.
Permits and Inspections
Biocom California supports efforts to make city and county permitting processes predictable, transparent, and efficient. Inconsistent standards for inspections have been an ongoing issue for our members, and one that we have been working on with government staff for many years. We also encourage local governments to pursue policies to address permitting delays caused by the continuing COVID-19 pandemic.
housing
Housing
It is common knowledge that there is a housing shortage in the San Diego area – the median price of a single-family home is $911,000. Biocom California supports incentivizing the building of additional middle-income housing units via a variety of approaches to accommodate our growing life science workforce.
infrastructure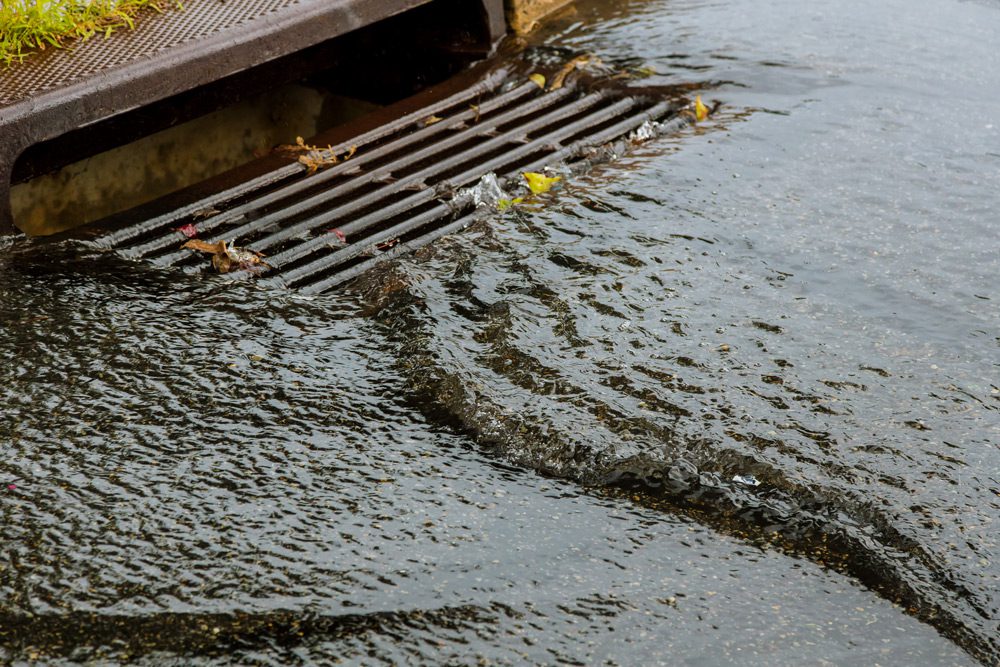 Storm Water Channel Maintenance
The City of San Diego has developed a long-term plan to address flooding issues and restore the Los Peñasquitos Lagoon. Biocom California supports the City's efforts to pursue funding for implementation of the plan and urges the City to pursue parallel permits where possible.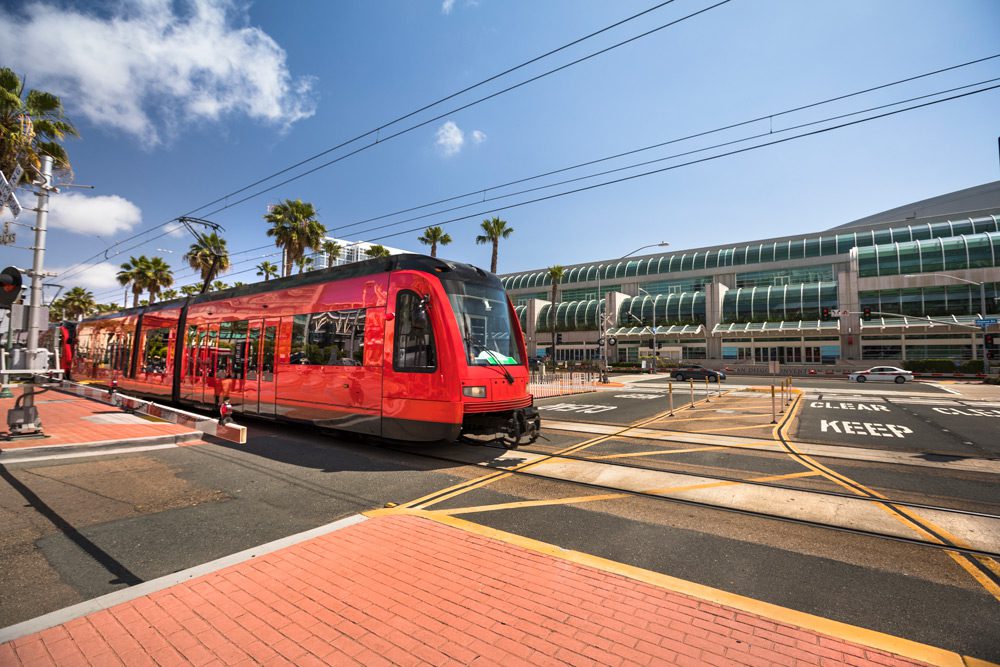 Transportation
Transportation is a key element in the quality of life in San Diego County, impacting the ability of employees to commute from work in a reasonable time as well as the ability of companies to attract the necessary workforce and transport goods and products. Investment in transportation infrastructure is critical for San Diego's future growth and population needs.
EH&S Committee – San Diego
Through this committee, Biocom California members work collaboratively with local regulators and inspectors, share inspection experiences, and participate in continuing education opportunities related to the management of Environmental Health & Safety in life science facilities.
Facilities Committee – San Diego
This committee is comprised of life science facility managers, landlords, architects, brokers, and lab suppliers, and meets to share best practices, plan and execute issue-specific presentations, and vote on Biocom California regional policy positions
San Diego Policy Statements