January 18, 2023
Meet Our 2022 Catalyst Awards Winners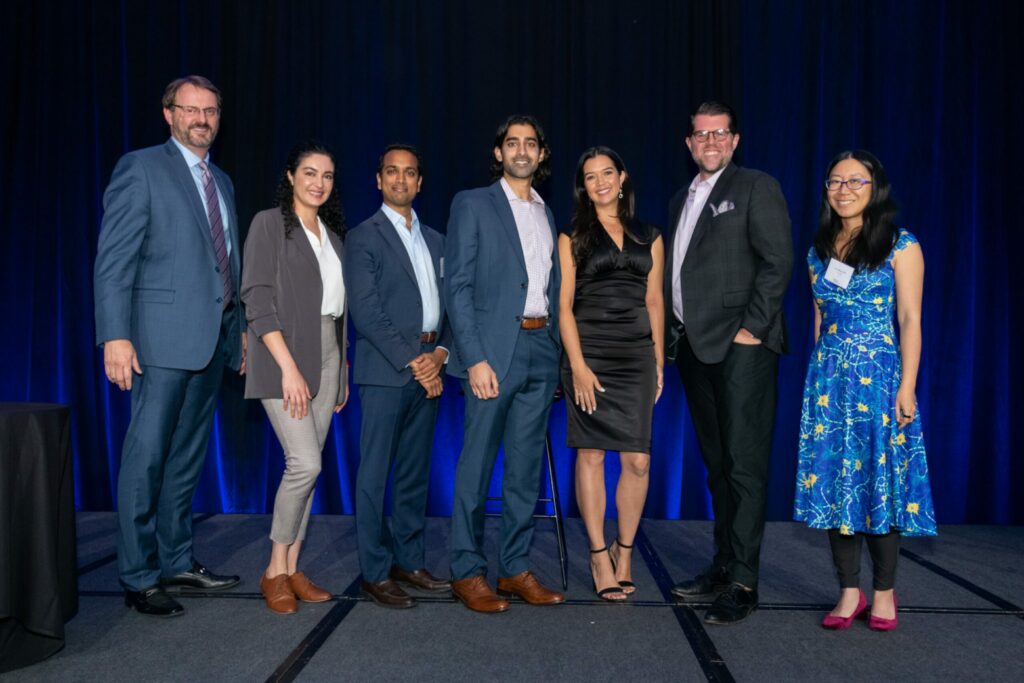 Our Life Science Catalysts
This year's Life Science Catalyst Award recipients truly embody what it means to be an industry catalyst. Bringing a fresh mix of unique insights, drive and entrepreneurship, they are sparking significant change and helping ignite innovation in California's ever-growing life science community—all before their 40th birthday.
For the seventh year in a row, Biocom California recognizes individuals in San Diego, Los Angeles, and the San Francisco Bay Area who are already making lasting marks. From mapping the brain connectome and building programmable CRISPR-based technologies to harnessing the power of machine learning to develop better medicines, take a look at how the next generation of young leaders are driving healthcare forward.
ACCELERATING NEUROSCIENCE TECHNOLOGIES FOR ALL
Jun Axup, Ph.D. | Director of Partnerships of E11 Bio
At E11 Bio, Jun is helping build high-throughput molecular tools to map the brain connectome. As a nonprofit Focused Research Organization, E11's vision is to one day see neuroscience technology platforms accessible to all scientists to help develop new treatments for brain disorders and accelerate neuroscience technologies. As an entrepreneurial scientist at heart, Jun has co-founded two companies and was previously chief science officer and partner at IndieBio, the world's largest biotech accelerator, where she advised over 160 companies. She is passionate about science outreach and education, using art and music to spread the love of science.
CATALYZING TRANSLATIONAL RESEARCH
Monica Rivera Beam, Ph.D. | Senior Vice President of Science & Technology of Alexandria Real Estate Equities
Monica utilizes her deep operations, engineering, scientific and finance training to help grow and scale Alexandria Venture Investments. As the SVP of science and technology, she has led venture investments in more than 30 life science and technology companies—many of which have grown to be prominent and successful organizations in the Bay Area. Monica plays key roles in many areas of the company, including supporting the company's West Coast real estate expansion and operations. Lending her scientific expertise and insight into the industry, she is also a board observer and advisory board member for multiple life science companies.
DEVELOPING A SEARCH ENGINE FOR BIOLOGY
Janice Chen, Ph.D. | Chief Technology Officer and Co-Founder of Mammoth Biosciences
After receiving her Ph.D. from the lab of Nobel Laureate Jennifer Doudna at University of California, Berkeley, Janice helped found Mammoth Biosciences. Through her research investigating mechanisms of CRISPR proteins, she co-invented DETECTR—a programmable CRISPR-based detection technology that has applications in many points of care settings. Janice has been recognized as a leading, young trailblazer many times before, in addition to delivering a TEDx talk on the potential for CRISPR to democratize diagnostics. When she's not leading her team of scientists, engineers and innovators at Mammoth, she can be found playing chess, hiking and being a new mom.
BUILDING BERKELEY'S BIOTECH HUB 
Elizabeth Redman Cleveland | Chief Strategist, Sustainable Growth for the City of Berkeley Office of Economic Development
Elizabeth is helping make Berkeley a world-class life science hub. As the chief strategist for sustainable growth for the city, Elizabeth has established herself as the go-to person for building public-private partnerships, accessing decision makers and developing policies that strengthen the East Bay's innovation ecosystem. She has been instrumental in helping companies in all facets from marketing startups' novel discoveries to developing talent pipelines to finding local lab space. As an extension to her day-to-day work, she holds a leading role in the Berkeley Startup Cluster to ensure Berkeley is a more vibrant, accessible and equitable place for startups to launch and grow. However, one of the best parts of her job is seeing underrepresented minority students from Berkeley High School get inspired when she introduces them to the biotech industry through the STEM CareerX Day program she developed in partnership with the Cal State East Bay Institute for STEM Education. And when she's not working, you can find her scaling rock formations, whitewater kayaking or camping in her van with her husband.
CREATING GLOBAL LIFE SCIENCE COMPANIES
Michael Farrington | Senior Vice President, and Chief of People and Culture of NuVasive
Pulling from his extensive marketing and life science communications expertise, Michael continues to make a lasting mark at NuVasive by assuming the role as Chief of People and Culture—representing over 3,000 employees around the globe. Recently, Michael helped build and shape the company's new position and brand strategy as the world leader in spine and orthopedic care. With a mission to advance life-changing, less invasive surgery options for patients, NuVasive is committed to more intelligent surgery to transform spine care. In addition to driving impactful programs and initiatives at NuVasive, Michael is active on multiple company Boards and local community groups and non-profits.
APPLYING MACHINE LEARNING TO ANTIBODY ENGINEERING
Peyton Greenside, Ph.D. | Chief Scientific Officer and Co-Founder of BigHat Biosciences
Peyton and her team at BigHat Biosciences are reimagining antibody discovery and engineering. Through machine learning and synthetic biology, BigHat is making it easier to design new and safer antibodies for patients. Through Peyton's leadership, her team is solving some of the most difficult biophysical molecular design problems associated with new classes of antibody therapeutic formats. Having made significant contributions to advancing the field of computational biology, she continues to share her learnings through multiple speaking engagements and community outreach. But Peyton isn't only active throughout the industry—she also loves biking and exploring the many gravel and road cycling routes around the Bay Area.
EMPOWERING GLOBAL HEALTH INNOVATION & IMPACT
Genevieve LeMarchal | Managing Partner of Suncoast Ventures and Expert Dojo
Genevieve is the head of healthcare at Expert Dojo, where she has designed, launched and continues to run the healthcare program. In just one quarter, Dojo made 35 investments in healthcare, representing 50 percent women and 43 percent founders from underrepresented backgrounds under the leadership of her and her team. All this while maintaining portfolio performance numbers ranking them in the top tier for VC fund performance. Realizing the opportunity to provide further support and drive healthcare equity, Genevieve launched the VC fund Suncoast Ventures in 2022—the first affiliate fund of Dojo. Outside her day-to-day job, Genevieve is a frequent panelist, presenter and keynote speaker.
THE FUTURE OF RNA ENGINEERING
Devan Shah | Chief Executive Officer and Founder of RNAV8 Bio Inc.
Devan's diverse experience in finance/VC, business development, nucleic acid manufacturing, cell and gene therapy, and computational biology has culminated in his founding of RNAV8 Bio ("Renovate"). Advancing a portfolio of mRNA-based medicines to better treat unaddressed pre-cancerous diseases, Devan aims to create a unique RNA engineering and design platform that can be accessible to industry and academia peers in need of RNA for their own therapeutic pursuits. Having served in different leadership roles across academia, start-ups and finance groups, Devan also lends his strategy, fundraising and business development expertise to the wider life science community.
FUELING NEUROCRINE'S COLLABORATION ENGINE
Samir Siddhanti | Executive Director, Business Development of Neurocrine Biosciences
As executive director of business development of Neurocrine Biosciences, a neuroscience-focused biopharmaceutical company, Samir has helped the company expand its pipeline through collaborations with multiple pharmaceutical and biotech companies. Additionally, Samir is the program team lead for Neurocrine's Muscarinic Agonist Portfolio, including NBI-1117568, a selective M4 agonist in Phase 2 development for the treatment of schizophrenia.
MAPPING THE REGENERATIVE POTENTIAL OF HUMAN SECRETED PROTEINS
Hanadie Yousef, Ph.D. | Chief Executive Officer and Co-Founder of Juvena Therapeutics
Born out of her graduate and postdoctoral research at UC Berkeley and Stanford School of Medicine, Hanadie spun out her company, Juvena Therapeutics. Realizing the broad promise of her potentially transformative work, she and her team are building a unique machine-learning enhanced protein drug discovery platform that is mapping the regenerative potential of human secreted proteins. But Hanadie isn't only focused on building her company, she invests a significant amount of her time supporting aspiring entrepreneurs from diverse backgrounds, and is active in multiple mentorship organizations, including StartX, Nucleate Bio, the On Deck Longevity Biotech fellowship and Female Founder Office Hours. She is also driven to improving healthspan outside of the office in her approach to health and fitness and very much enjoys exercise and outdoor activities such as running, hiking, snorkeling and scuba-diving.