August 24, 2022
Hot Topic: The State of Lab Space in Los Angeles
Multiple headlines over the past year noted that cities throughout the country are short on laboratory space, the key facilities that life science companies need to conduct research and development. But in California, the situation seems even more dire. Vacancy rates for lab space in the Bay Area and San Diego have been at around 3 percent according to recent reports; whereas numbers for Los Angeles have been as low as 1.5 percent.
What does this mean for the life science industry when companies are short on space? What do companies, especially startups, need to know? We turned to our members who are experts in life science spaces and commercial real estate for some answers in this three-part Q&A series. First up in the series is Los Angeles, where we spoke with Jonathan Lange, Senior Vice President for the Los Angeles region and U.S. Co-head for Life Science Investments at Boston Properties.
Could you give us the lay of the land on vacancy rates for lab space in Los Angeles? Is it really as low as 1% at the moment?
It is difficult to really know, because space comes online and goes offline well before news agencies, advisors, or other owners become aware of it. But effectively, there is no available lab-ready space in LA–and that seems to be the case today as it has been for a long, long time.
Aside from demand for space, what are some reasons contributing to this ongoing low vacancy rate for lab space in the LA region?
I think it is a combination of reasons. Let's run through the most influential: One, there has been an explosion from the demand side, but that explosion has moderated over the last several months. If you look at the indices of publicly traded biotech companies, they peaked in 2021, recently hit lows in Q2 of this year, and are trending upward of late. What is interesting is the moderation in biotech company valuations that started in 2021 did not affect their desire for space…that moderation in space needs started just recently. Now, why is that? It is pretty simple: the explosion on the demand side over the last decade has outpaced developer capacity to deliver appropriate supply.
Specifically, within Los Angeles, one of the reasons why the supply has lagged even further is because this is more of a secondary biotech market. Our cluster and aggregation effects are not as advanced as San Francisco, San Diego or Boston. For developers like us to take speculative risk within this very niche segment of commercial real estate, you must firmly believe in the demand. I think a lot of life science real estate entrepreneurs have taken that speculative gamble on a smaller scale, and it has clearly paid off…to date. I believe additional, larger-scale developers will continue to take that speculative risk in larger projects.
Many of us in LA are of the mindset that growth is going to continue because we have the two primary fundamentals here in LA: the hospitals and healthcare institutions, and the university & research systems, which are critical to an expanding biotech hub.
LA has four primary hubs for lab space and biotech companies: the broader Westside (Silicon Beach, Santa Monica, Culver City); Thousand Oaks (near Amgen), Pasadena, and now El Segundo. Are you finding that companies are looking to set up shop outside of these primary hubs because of the lack of lab space?
Absolutely. There was a growing pharmaceutical company that was looking for space in Pasadena, and they needed it now. We hear this all the time: that a group's looking for space, they cannot find it in their desired submarket of choice, and they need to make a decision now because their research and their work requires functioning Class A laboratory space. That company ended up leasing space 20 miles east of Pasadena, because that was one of their only options for a currently available, functioning lab space. Despite the current challenges in our capital markets and the softening valuations for biotech firms, companies are still in need of high-quality functioning laboratories, with very few, if any, options to choose from.
If a company leases space outside their desired neighborhood, can that create a challenge in finding talent because of LAs' notoriously long commutes?
Absolutely, it is a huge challenge, and not just in Los Angeles, but across the country. And we are seeing this in every industry, not just within the life science space. As developers and operators, it is our job to listen to our customers' needs and desires, and create energizing workspaces and campuses that "earn" an organization and its team members' commutes.
LA was recently noted as the busiest in the country for the number of office-to-lab conversions that have been happening. Will this alleviate any of the need for space, or provide life science companies with alternatives?
Yes, we do believe this, in tandem with the broader softening of the economy, will provide additional options for growing life science companies in the near and medium-term in the LA basin. However, given the recent growth of the sector, the desire to continually develop both proactive and reactive medicines, and the long-term secular tailwinds supporting the healthcare industry, we believe that the existing and forthcoming stock of quality laboratory space in Los Angeles is still not prepared to meet the market's demand.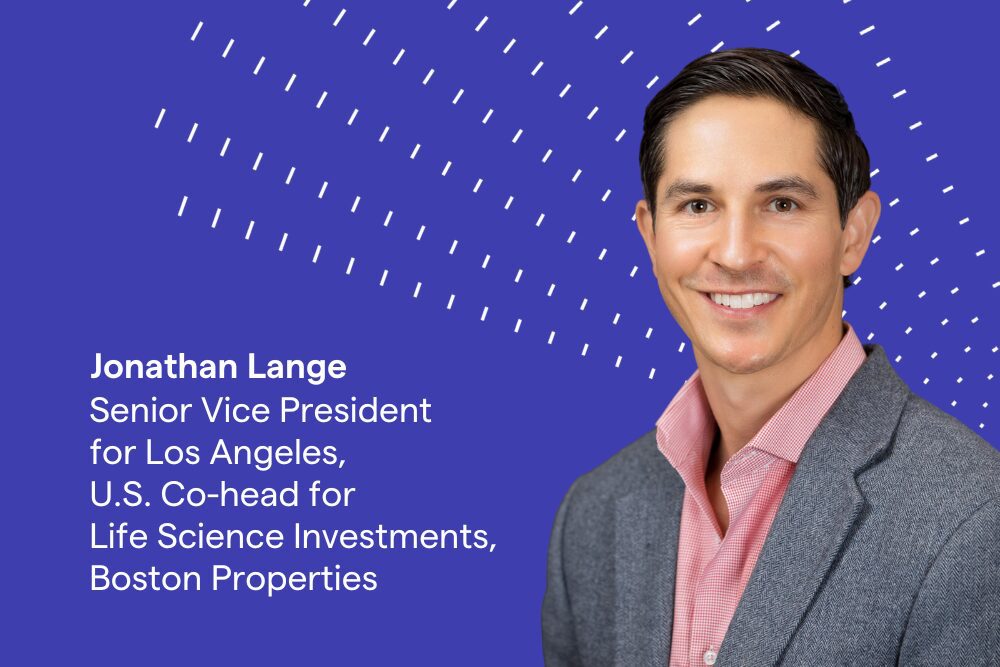 What is one thing that you would like to see happen in Los Angeles that can possibly provide more opportunities for lab space?
I would like to see reduced friction and uncertainty surrounding approvals to deliver new lab space and new life science buildings. It has always been a challenging entitlement and permitting process, no matter what type of space you are talking about in the state of California. And certain counties and cities are even more difficult.
The cities, trade groups and the local communities that reduce that friction and increase the certainty that developers–and ultimately the customers–have in getting that space ready for "use" are the cities that are going to win. These are very high-paying jobs [in the biotech industry] and they bring a lot of tax revenue.
The people in this space [biotech] also want thoughtful programming–they really like the integration of their building with the community. Oftentimes, that leads to sustainable building and the embrace of the surrounding environment in its natural landscape–which I think is a win for the local community, the city councils and planning managers both on the aesthetic and the financial fronts.
Is there really a high risk of companies leaving LA, or even California, because of the lab space issue?
I do not think we should be alarmed at this moment for two reasons. One, there has been a major shift, meaning a moderation, in the pace of growth and this is very recent due to things beyond our control. Two, it is really not about the lack of space in California: it's about the lack of speed to get into that space when it's there.
We believe we will have a growing availability of space between San Francisco, LA, and San Diego–the vacancy rate has been close to zero for the better part of a few years–and currently that feels like it is loosening up. Regardless, if you have a building and it needs improvements specific for that corporation (which is almost always the case), getting the approvals for that build-out can still take months and months. I go back to reducing that friction and increasing that certainty whereby developers can work together with the municipalities to ultimately provide the organization and user of the space more certainty to starting their operations. I think that's more important to focus on than delivering an abundance of supply, in today's current market.
What advice do you have for an upcoming startup that wants to find lab space in Los Angeles or found their headquarters here?
Become ingrained in trade groups, because there's tremendous resources there even though we are still a little bit of an up-and-coming market for the biotech industry. Focus on where you think your teammates and your talent will be drawn from today, and where you think they're going to be drawn from in the future.