September 20, 2022
Hot Topic: The State of Lab Space in the Bay Area
Multiple headlines over the past year noted that cities throughout the country are short on laboratory space, the key facilities that life science companies need to conduct research and development. But in California, the situation seems even more dire. Vacancy rates for lab space in the Bay Area and San Diego have been at around 3 percent according to recent reports; whereas numbers for Los Angeles have been as low as 1.5 percent. What does this mean for the life science industry when companies are short on space? What do companies, especially startups, need to know? We turned to our members who are experts in life science spaces and commercial real estate for some answers in this three-part Q&A series. Next up in the series is the Bay Area, where we spoke with Scott W. Miller, Executive Managing Director of Life Sciences at JLL.
What is the current situation regarding the availability of lab space in the Bay Area?
Existing inventory for bonafide laboratory office space, which is synonymous with life sciences, is definitely sub-four percent for direct spaces and three percent is probably accurate on where we're currently tracking on direct vacancy. Sublease vacancy, while also relatively low, is actually rising from where it was three quarters ago.
It's always good to have a more stability with the supply and demand ecosystem. Pre-COVID, and then coming into COVID, it's increasingly been a demand-outpacing-supply marketplace–more tenants, more occupants looking for a scarcity of inventory and space. Ideally, you always want there to be more harmony and congruency within that paradigm of supply meets demand. What's occurring in the world around us with inflationary conditions and the cost of construction going up is it's providing a release valve for the occupiers and tenants as developers are having to provide more improvement capital.
With that said, in the Bay Area, there has also been a softening of demand and an increase in sublease inventory (although not as much as in other marketplaces nationally). There's been new direct inventory hitting the market, both in office-to-lab conversions and new development. I see vacancy rate numbers rising to a number [in the future] where it's more harmonious from an occupier's perspective and healthier on the supply-demand ecosystem.
How is the current vacancy rate affecting the local life science industry? Are new companies coming into the Bay Area. If so, are they looking for space outside of the primary life science hubs?
A lot of the big pharma and big biotech groups that come to the Bay Area either come vis-à-vis a merger or acquisition event, or they put their metaphorical flag into the marketplace so that they establish a presence here. However, many of the big pharma and big biotech organizations have already arrived here invariably over the past decade. We did see Astellas sign a large deal with Healthpeak Properties recently—a very large publicly traded life sciences developer—in our market, but we're not seeing that big wave of large biotech or large pharma companies as we did in prior years as they have already arrived.
A considerable amount of the organic growth in our market is well-funded, mid-cap and mid-emerging biotech companies that are looking for progression. They're having to plan forward in advance to foster and host their growth because of how limited the options [for space] have been for the past many quarters. Going back to new developments coming online, conversions and ground-up development, there's going to be more options. More opportunity for those companies that are organically expanding in our market to find a headquarters location that makes sense for their operation.
There are also landlords making their entry into the Bay Area life sciences market, with King Street Properties bringing their expertise from the East Coast, as well as IQHQ expanding operations from Southern California. Established developers and new entrants are already planning the next major clusters outside of the primary life sciences submarkets. One such example is Millbrae, where Alexandria has secured Eikon Therapeutics for 285,000 square feet.
The Bay Area had the second-largest percentage gain for office-to-lab conversions this year. Will this help the current situation—especially since employees at several tech companies in the region have gone to permanent remote or hybrid work models?
It's no secret that the office occupiers in the technology arena and financial services sector have been taking advantage of what's becoming a trend in the advent of COVID: the work-from-home dynamic. Life sciences users are unable to work from home, because laboratory workers are essential. They have to be in the laboratory, and laboratories exist in buildings that are either properly converted or built purposely for life sciences.
You're seeing a paradigm shift where office developers—who might have some consternation about staring down potentially quarters or years of vacancy—are having to contemplate converting their space to laboratory, life sciences space. But if a conversion is expedited inadequately, it will not be received well by the occupier populace within the life sciences ecosystem—it's really incumbent upon the correct developers to implement that undertaking effectively and efficiently. It's no easy feat. That is a very complex and challenging operational conversion: it's not as easy as one thinks to convert an office building to a laboratory, it has to be converted correctly. There are certain developers that do it accurately and effectively. And unfortunately, there are developers that cut corners and do it poorly. The developers who actually know how to effectively and accurately convert offices to laboratory/office are the ones that will be standing tall at the end of the day. There is a considerable reputation risk associated with any office to lab conversion and the correct conversions are being noticed and noticed favorably. The same can be said about the inadequate conversions, it comes at the peril of damaging a developer's reputation.
I think the conversions will provide more inventory for tenants who are out looking for space, but it'll be very well-known which assets have been converted effectively and which assets have not been converted effectively.
Is there a factor that makes building more lab space in the Bay Area uniquely challenging?
There's always a clustering effect with where these life sciences companies want to be located. Number one, they want to be where there's existing talent, which is part and parcel to where existing life sciences companies already call home. Second, being close to research institutions and being close to venture capital is paramount. You've seen a confluence of existing geographies being the benefactor of all of these attributes—hence the reason why South San Francisco, Mission Bay, Emeryville, Berkeley, Alameda, Redwood City, Foster City and Hayward are burgeoning life sciences markets.
Also, you're land-constrained in the Bay Area Peninsula because you're surrounded by a bay, exisiting residential neighborhoods and the foothills on the peninsula. There's not a whole lot of other land opportunities to grow a life science cluster which is why so much existing real estate is re-purposed to create adequate laboratories to support the growth. You'd have to really grow south into Silicon Valley or farther east if you're on the east side of the bay, up and down the 880 corridor. What we're finding is life sciences occupiers and tenants by and large want to be amongst where there's already an established cluster in the Bay Area.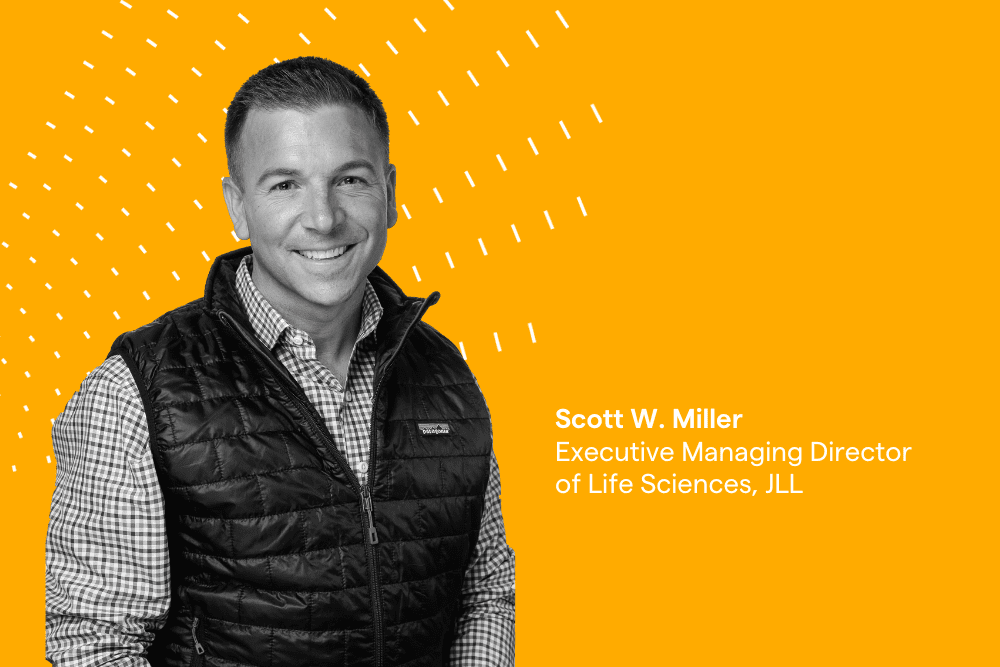 Have any companies been willing to go out into a new area or a space further away from the cluster to set up a headquarters?
You do get a large headquarters relocation into a pioneering market from time to time, which does kick off and become a catalyst for that respective market. It would depend on the company size, their panache and their brand equity. One example is Exelixis relocating to Alameda from South San Francisco which was a big splash. But it usually takes more than a few companies to establish a cluster, it takes a critical mass of life science-centric companies to create enough momentum into a clustering effect.
Is there really a high risk of companies leaving the Bay Area, or even California, because of the lab space issue?
We see very little risk in any large, holistic relocations of meaningful scale out of the Bay Area because of companies claiming or determining they can't find lab space. There's rooted and recognized intellectual property, talent, research, established institutions, venture capital and novel pioneering science within our marquee clusters throughout the Bay Area.
I think that the vacancy rates will continue to rise, given the new lot of inventory that's coming online, both on the conversion side and new development side. Demand will soften a bit given all of the factors we've been talking about, and there will be an increase in sublease inventory as well, both from M&A and suspended trials which ordinarily result in workforce reductions that have happened in some rare instances within the Bay Area. Recent examples of M&A activity include Gilead acquiring MiroBio, Amgen's acquisition of ChemoCentryx and Pfizer acquiring Global Blood Therapeutics. Whereas companies with workforce reductions include Nektar Therapeutics and Invitae. All of that combined with our established science, the talent pool and the clustering effect—I see very little risk in companies deciding to leave.
If a life science startup is in need of lab space today, would you have anything available?
That segment of our marketplace has a significant amount of demand, because that's usually the next graduation point when a company is raising their Series A or Series B and they're graduating from their incubator. So there's more demand in the 15,000- to 30,000-square-foot range than there would be having a requirement that's larger in scale. Given where vacancy is today, there would be challenges in finding direct space for 15,000 square feet. However, since there will inevitably be sublease inventory coming to market, there would be some optionality within the size range.
What advice do you have for an upcoming startup that wants to find lab space in the Bay Area or found their headquarters here?
Provide yourself plenty of time to make that decision. Look at several established life sciences markets within the Bay Area just to juxtapose various cost implications. Evaluate where the talent is coming from and where the talent currently exists, and from a recruiting and retention standpoint, look at headquarter locations that will be conducive to both of those factors. It will take ample runway to plan and implement a process by which you can look at all of the several micro-markets and locations and find developers that have compelling offerings to provide worthy to become a headquarter home for the appropriate companies.