September 22, 2022
How Reauthorizing the SBIR/STTR Programs Supports Biomedical Innovation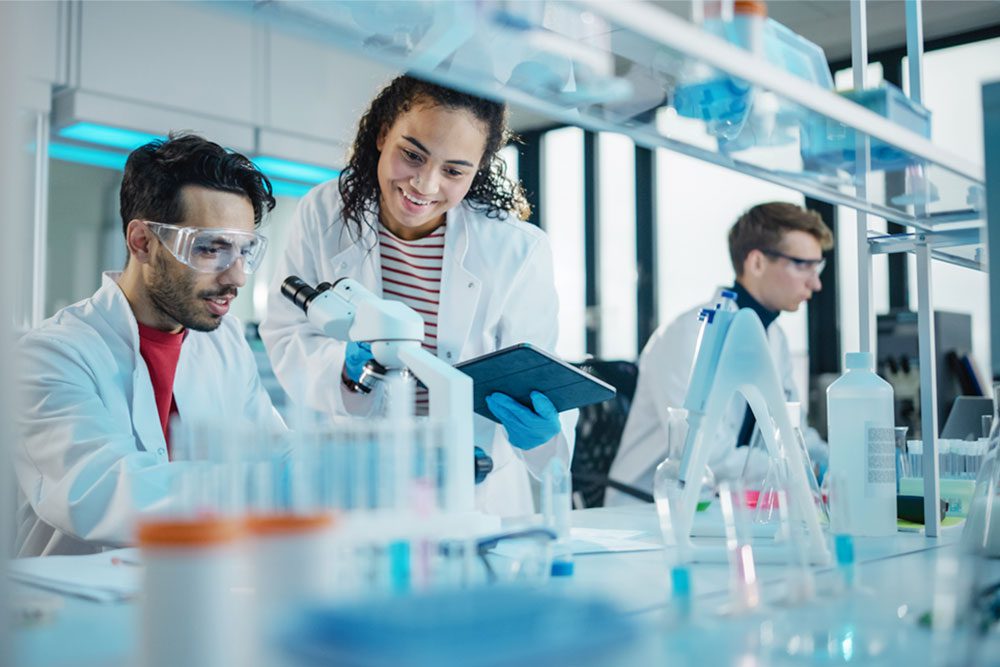 Securing strong investment funding is a challenge for many life science companies and therefore has always been an advocacy priority for Biocom California. In addition to venture capital, funding from federal agencies such the National Institutes of Health (NIH) plays a critical role in advancing research and development in the U.S.. California receives more NIH funding than any other state, with over $5 billion in FY2022, which funded almost 8,600 grants.
While top recipients of NIH grants are often large companies and established research institutions, Congress recognized in the early 1980s that highly innovative, small companies tend to be underrepresented in federally funded research. As a result, the Small Business Innovation Research (SBIR) and Small Business Technology Transfer (STTR) programs were created in 1982 and 1992, respectively, to mandate federal agencies with extramural R&D budgets of more than $100 million for SBIR and $1 billion for STTR to set aside a portion of their funds for small companies' research projects. Currently, 11 federal agencies operate SBIR programs and five agencies operate STTR programs.
These programs are reauthorized every five years and are set to expire at the end of the Fiscal Year on September 30, 2022. If the programs were to be paused or discontinued, many research projects would be significantly disrupted at best or terminated altogether. Thankfully, after months of negotiation between the House and Senate committees of jurisdiction, a deal was reached just a few days before the looming deadline.
The bill, the SBIR and STTR Extension Act of 2022, introduced this week in the Senate would reauthorize the programs until 2025. It also includes new provisions that would increase performance standards and establish commercialization benchmarks for multi-award recipients. It also seeks to limit companies' foreign investments and mandates disclosures of foreign ties. Biocom California put together a summary of new restrictions and changes made to the programs. The bill passed in the Senate on September 20 and is expected to pass in the House shortly after.
California tops the states list for having the largest economic impact ($9,323 million) from companies that successfully commercialized products resulting from SBIR/STTR grants. Many innovative small businesses rely on SBIR/STTR funding to advance their businesses and help de-risk bold healthcare solutions, but that is only a small part of the investments needed to bring products to market. Federal R&D funding also provides a basis for scientific and technical validation, which is a key factor in attracting private investments. More urgently, the current drop in capital investments is forcing many small companies to rely exclusively on the SBIR/STTR programs to offset this funding loss.
Many of our member companies have benefited from the nondilutive funding offered through these programs to help them bring new medicines to patients in need. One such company is South San Francisco-based GigaGen, which has created a new way to develop antibody drug candidates that not only accelerates the time it takes to bring drugs to cancer patients and those with infectious disease, but also enables a new class of antibody therapies called recombinant polyclonals. GigaGen received NIH funding through SBIR grants in its early stages, enabling the development of its innovative technology, and credits its success in large part to the funding received through the program. "Innovation in the life sciences is more important now than ever, as was evidenced by our industry's recent efforts to overcome the COVID-19 pandemic," said Carter Keller, head of GigaGen and a senior vice president at Grifols. "For our industry to continue innovating and meeting the needs of patients, funds such as those distributed through SBIR grants provide the life blood for us to continue advancing this critical work. GigaGen has been fortunate enough to have been the recipient of multiple grants for more than 10 years, which has been essential in supporting our efforts of bringing first-in-class oncology and infectious disease therapeutics towards the clinic and lead to our acquisition. We remain grateful for the work that grants such as those awarded by the SBIR program allow our industry to do."
Knowing how critical this funding is to the life science industry, Biocom California has made reauthorizing the programs a top priority. We have worked closely with our allies in Congress over the past months to reiterate the importance of the programs and push for a timely reauthorization. Through our Action Center, member companies were also able to help the cause by sending a message to their Member of Congress and Senators urging them to reauthorize the programs. Small companies are at the center of Congress' goal to strengthen American competitiveness, and SBIR/STTR is a critical component of our innovative life science ecosystem. Biocom California will always advocate for these programs.