March 22, 2023
Reflections and Takeaways from Our 13th Annual Global Life Science Partnering & Investor Conference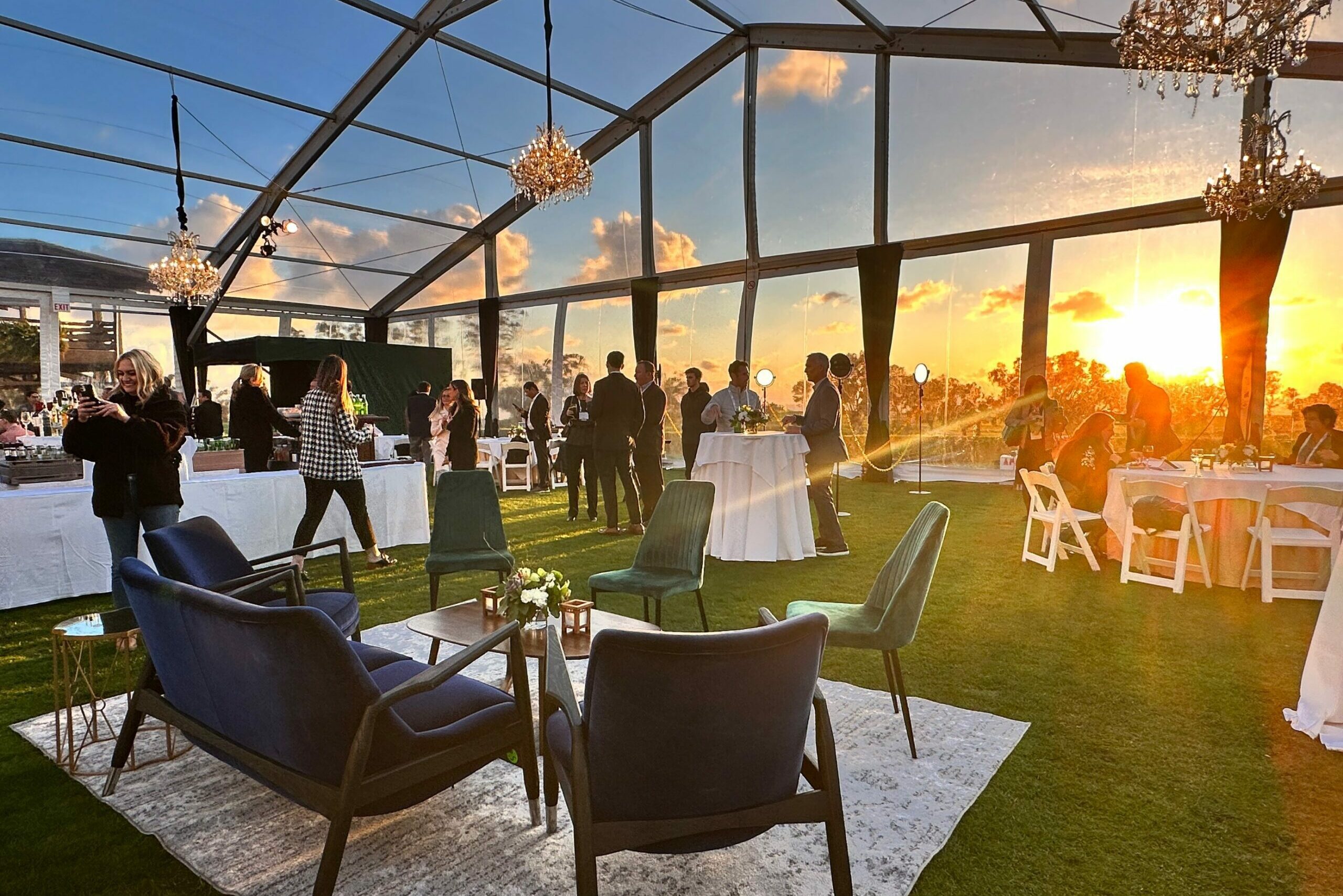 Earlier this month, we wrapped up our 13th annual Global Life Science Partnering & Investor Conference—a conference gaining incredible momentum throughout the state and around the world, welcoming a record number of attendees (500-plus), and more than 1,000 meetings through our One-on-One Partnering programs to connect emerging companies with potential investors and established firms. Discussions on the most pressing issues for life science companies today were covered across ten panel sessions with 50 luminary speakers. And despite the colder-than-usual weather for San Diego, you could feel the excitement as everyone gathered and celebrated in the gorgeous outdoor tent on the Arroyo Terrace at The Lodge at Torrey Pines overlooking the famed greens of the Torrey Pines Golf Course and the Pacific Ocean.
Over the course of three days, panelists provided their insights in topics ranging from how to partner with large pharmaceutical companies to what VC firms are looking to fund today in this time of economic uncertainty, and even why you should consider conducting research in space (it's possible!) Here are some key takeaways from this year's panels, and memorable expert insights to keep in mind for the year ahead.
Partnering
Many life science companies have questions on how they can connect and partner with large pharmaceutical companies. Three panels during the conference, "Big Pharma Partnering in 2023," "Pharma Partnering Wants and Needs," and "Demystifying Pharma Partnering" addressed these topics with panelists providing guidance on what pharma is looking for, how the current market is affecting partnering, and most importantly, how to reach out. Here are some key takeaways:
What Pharma is Looking For When Evaluating Assets to License
"Pitches that land the best start with a problem statement. How will this solve problems that can't currently be solved?" —Mark Paris, executive director, oncology search and evaluation, Daiichi Sankyo
"The more you can come forward with the value proposition, the better."—Tim Luker, VP of venture science and West Coast USA head of business development, Eli Lilly
"Don't be afraid to show us everything. Our scientist will ask the right questions." —Grace Han McMahon, AVP and head of Pacific BD&L, Merck
Panelists mentioned the current need for therapies for adrenal cancers and other indicators. For rare tumor adrenocortical cancer, there hasn't been any medical innovation in 50 years. Other therapeutic areas companies are looking to partner on are: ophthalmology, women's health, cell and gene therapy (Bayer); chronic conditions linked to diabetes (Novo Nordisk); and licensing agreements on radioligand therapy, oncology, and cell and gene therapy (Novartis).
How is the Current Market Affecting Deals? "It's still about funding impactful science. You have to love the science and feel you can propel it forward. The money is out there. Our job is to assess quality and risk. —Tim Luker, VP of venture science and West Coast USA head of business development, Eli Lilly
How to Reach Out to Pharma (and What Not to Do) Panelists advised to not cold call, don't send the deck to the CEO, and to be sure to go to the pharma company's websites and see what their partnering interests are—they won't look at things that are not within their scope.
Do send them enough information in your non-confidential deck so they can see if it matches their strategies, engage your board to make introductions, and use your VC network to see if they have portfolio companies of interest. Speakers at the "Demystifying Big Pharma Partnering" panel unanimously agreed that attending conferences such as GPIC is one of the best ways to connect with them.
Investing
Three different panels tackled current trends in VC investing, capital markets, and what VC firms are looking to invest in today. The main takeaway from the discussion is that the fundamentals of dealmaking have not changed. What has changed are market conditions, and we are currently in a buyers' market. Here are key takeaways of what the dealmakers told us to keep in mind:
Engage early; get feedback
Ask for money you'll get advice—ask for advice and you'll get money
If you don't have the resources, remember we do.
Have a good financing plan, it's as valuable as good science
Next to solid CMC: a great clinical operations person is invaluable
Set yourself apart and have a manufacturing plan to scale up
At the heart of dealmaking is trust, transparency, relationships, and science
What VC Firms Are Looking For Today
"It has to be good science, but good science that leads to something. Good management team, ability to listen. For biotechs, you're talking to one person—they have to go back to their team and defend the investment. Look for someone that can do a killer experiment quickly. Capital is going to be tight for a while. —Carole Neuchterlein, head of Roche Venture Fund
"We call it the 'one-bullet-point test.' Can you communicate the value in one cohesive bullet point? As soon as there is complexity and nuance, you lose people very quickly."—Scott Platshon, partner at EcoR1 Capital LLC
"Oncology and looking in neuro and different therapeutic areas to create diversity. Stage-wise, it has to be close to the clinic or in the clinic." —Court Turner, partner at LYZZ Capital Advisors
"Product-focused companies that have near-term clinical data. Platforms need to have applications that make sense in the clinic. —Dan Estes, Ph.D., general partner at Frazier

Ultimately, panelists agreed that it's all about your story. Go with the big, bold one. Investors are looking for an entrepreneur's passion in selling their unique story. Also, determine the minimum amount of money to get the most meaningful value.
Getting Your Research Into Space
One panel that captivated the audience this year was "Medical Research in Space," with its discussion about the work currently being done 250 miles above us. Zero gravity changes everything we know about science, and life science companies can explore how new therapies can be developed in space. Kevin Engelbert, manager of in space production applications at NASA, shared the agency is establishing "a frontier for micro gravity" and choosing the best foundational science to put into micro gravity for funding and bring investors in. Twyman Clements, co-founder and CEO of Space Tango, a company that is capitalizing on micro gravity, said they investigated how stem cells proliferate in space and found "early insights into how stem cells age and gather data we can't do on Earth," with applications for small molecule development. Catriona Jamieson, director of the Sanford Cell Institute at UC San Diego, said getting medical research into outer orbit is an opportunity to bridge astro-biotechnology with biotech. And because heat doesn't move in space, cells will signal differently with no sedimentation and more uniform crystals. "The industry has changed to support biomanufacturing in space and to create that collaborative environment that you have here. Rethink the way you see science."
For those interested in learning how smaller companies can get into space, the Small Business Innovation Research program (SBIR) can help through federal research funds. Trending Topic: Inflation Reduction Act The passage of the Inflation Reduction Act and its effects on drug pricing and the pharmaceutical industry was a trending topic at many of the panels and discussions at this year's conference. While most speakers at the venture capital panels said the IRA is not affecting how they are making investment decisions, Ash Khanna, partner at Pivotal BioVenture Partners, said investing in companies that are developing therapies for rare diseases has not changed but he foresees biologics being the hardest hit by the legislation. In his keynote speech, Dr. John Reed, EVP of pharmaceuticals and R&D at Johnson & Johnson, said oncology will be most affected by the act when an audience member asked about the IRA.
Keynote Speech from Dr. John Reed, EVP of Pharmaceuticals and R&D at Johnson & Johnson: "The 4 P's—Pipelines, Partnering, Platforms, and People"
This year's keynote address was presented by the distinguished Dr. John Reed, who was recently appointed as EVP of Pharmaceuticals and R&D at Johnson & Johnson after a successful career as EVP and Global Head of R&D at Sanofi. His speech illustrated the four essential concepts that pharmaceutical and life science companies must master order to successful discover and deliver new medicines to patients: pipeline, partnering, platforms, and people.
1. Pipeline: Reed shared stories of "challenges from the battlefield" throughout his career at getting certain new medicines to market. One of them, Alecensa, a treatment for non-small cell lung cancer, almost didn't get commercialized during his time at Roche. Reed advised to be aligned with the commercial group at your company, and encouraged researchers to persevere when they inevitably "hit snags along the way working on projects where the rest of the company won't be exactly cheering you on." The pipeline, he says, "all comes down to the patients we serve. Vast majority of these medicines wouldn't have become what they've become without the champions behind them."
2. Partnering: Reed says roughly half of the pipeline comes from external sources, therefore "partnering is the lifeblood of the industry." Reed shared 25 companies that Sanofi has partnered with—including Chugai Pharmaceutical, Regeneron, and UCB—and stories illustrating why partnering "is critical to maintaining a sustainable pipeline."
3. Platforms: Companies need ways to broaden the toolbox for scientists to open targets that were hard to crack. While finding a new target is great, creating a new technology or platform gives you that edge. Reed advises that companies first consider three things when embarking on using new technologies: "Do you build it, do you borrow it, do you buy it?" In some cases, it's more cost-effective to borrow the technology. Ultimately, new technologies and platforms will lead to "new ways to conquer complex disease biology."
4. People: Attracting and retaining top talent is a challenge today. Life science leaders must build a company culture of collaboration and performance, as science is team-based and a strong collaborative culture can move innovation forward. Reed says that Roche experienced a slump where a new drug was not developed for several years. To address this, he rebuilt the company culture and focused on the "people" aspect: simplifying decision-making, empowering people to make decisions, and removing hurdles for scientists. At Sanofi, they adopted more urgency, and reduced the number of committees their scientists were overburdened by. "The project leader is the CEO of the molecule," Reed says, and he advises leaders to delegate and then "get out of the way." After these changes in culture, Roche experienced record productivity and Sanofi increased delivery. "We want medicines, not milestones," Reed says.
We hope to see you again in 2024. If you have not attended our conference before, we hope that you'll consider taking the leap and join us in La Jolla next spring. Save the date: February 27 – 29, 2024.