May 11, 2022
Member Spotlight: Breakthrough Properties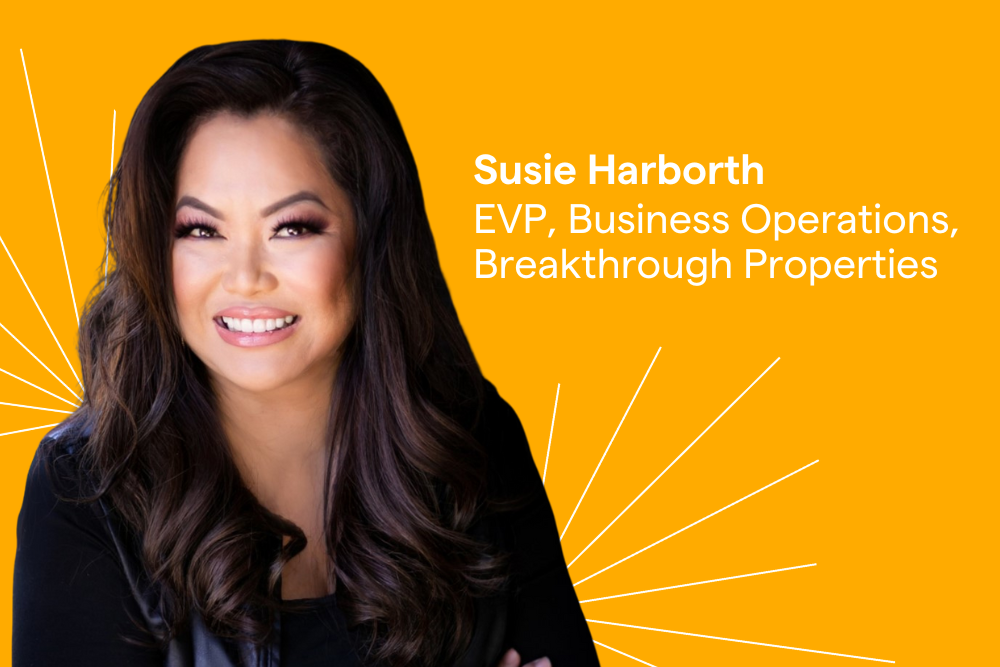 Breakthrough Properties Builds Destination Lab and Office Spaces That Blend Art and Science
In celebration of Asian American and Pacific Islander Heritage Month, we are spotlighting AAPI leaders in the life science industry. Susie Harborth is a life science real estate executive and venture capital investor who co-founded BioLabs in San Diego and Los Angeles, and was COO of the national platform. She is now EVP of business operations at Breakthrough Properties, which is headquartered in Los Angeles and has roughly a dozen life science properties in California, Boston/Cambridge, Philadelphia, Amsterdam, and the U.K. The global company is a joint venture between Tishman Speyer and Bellco Capital and has several projects in San Diego, including Torrey View by Breakthrough, a new ten-acre life science campus opening in 2023, and StudioLabs, a turn-key innovation center opening this summer.
You received your undergraduate in business, and then a master's from Harvard in sciences and biology. How did your career path lead into real estate development for life science?
I love science and was even captain of my high school science club. I thought I'd become a physician, but I was raised by a single mother of three in an immigrant refugee family [from Vietnam]. I had to put myself through college with three jobs, and I didn't see how I could afford a four-year education, much less medical school. Someone once told me: 'always try to overlap your hands and your heart.' Your hands are what you are good at, and your heart is what you're passionate about. I knew that I loved science and helping patients, but the road seemed daunting, I had to seek alternative paths. So what was I good at? I was really good at paying bills, accounting, and ordering office supplies [laughs]. I started out as an office manager for a venture fund and fell in love with startups, innovation, and entrepreneurs.
I realized I could go into biotech and a whole new world opened up: there are so many career opportunities—which a lot of people don't realize—that don't require you to be an M.D. or a Ph.D. or have that biology background. I went into investment banking, and then started three early-stage biotech companies. At first, I took on finance and operational roles, but then I got into real estate because there was a need in finding our lab and office space; building out and furnishing the spaces; and setting up our workspaces to recruit our team.
I quickly realized that I could contribute to helping patients, just not in the way a physician does. If I can enable someone to find a cure for cancer, or to find that COVID vaccination, to do whatever I can to support from the real estate or operations aspect, that is my contribution to that ecosystem—because it takes a village.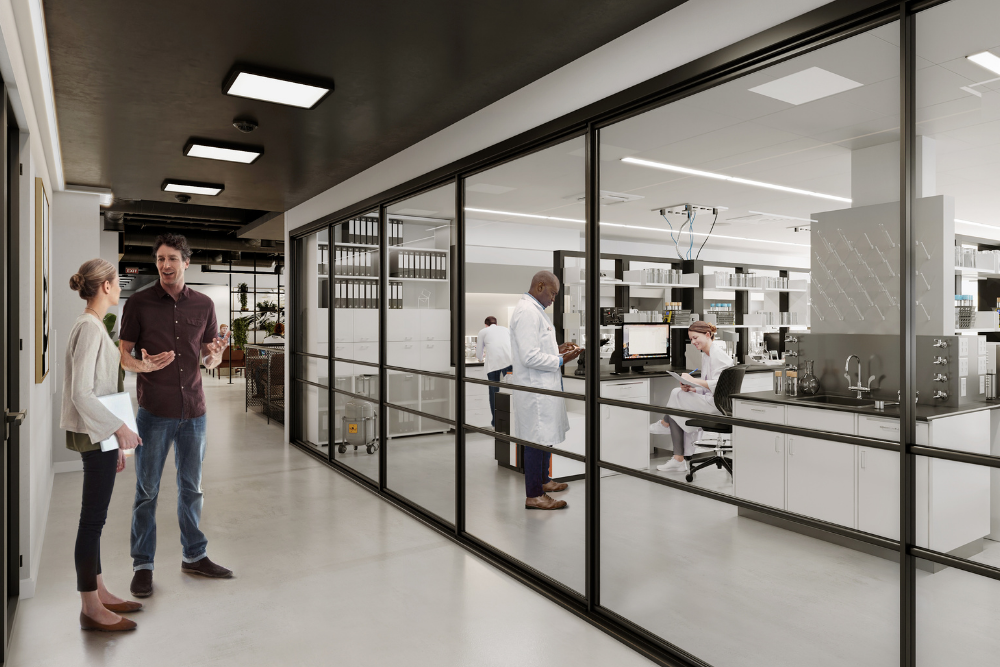 It's a personal passion of mine to help support STEM development, as well as careers outside of STEM. It's creating career pathways for people to understand that there are career opportunities in the life science market for everybody: HR people and marketing people, for example, in addition to the scientists. Life science can't grow without talent.
What project in the company's portfolio is your biggest focus right now?
Our StudioLabs by Breakthrough project, mainly because this innovation space is a labor of love for me and we are getting ready for July 2022 occupancy. It's fully furnished, short-term spaces that we've curated for hyper-growth companies that are looking for about 5,000 to 15,000 square feet of space on two- to three-year lease terms. I picked out the furniture and finishes, and had interior design firms from New York and London collaborate on the design. We really wanted to create an inspiring space that would match the type of quality of the science that was happening. We call it StudioLabs because "studio" is an expansion of Tishman Speyer's Studio coworking business. I thought that name fit in a lot of ways, because bioscience is rooted in creativity: you're designing your experiments in these labs. That idea of blending art and science is how we designed the space, and then my team runs day-to-day operations. We brought a concierge approach to these spaces, which didn't exist in the market.
StudioLabs is just one element of what we offer at Breakthrough Properties. We really are building campuses for early, mid, and late-stage companies—the full spectrum. Our platform combines the critical elements of community, capital, and mentorship: we even have our own scientific advisory board that is available to the companies within our ecosystem.
What is the biggest challenge that you're seeing from your perspective in the life science industry right now?
It's recruiting and talent development, especially for diverse candidates in the market. I think there's more momentum behind it now and companies are becoming more aware. It's a personal passion of mine to help support STEM development, as well as careers outside of STEM. It's creating career pathways for people to understand that there are career opportunities in the life science market for everybody: HR people and marketing people, for example, in addition to the scientists. Life science can't grow without talent.
I think there's still a lot of opportunities to educate, motivate, and inspire the next generation and to think about life science careers, and even retrain people who might be switching careers. I would love to see a pathway to help people get into life science, because the opportunities are out there.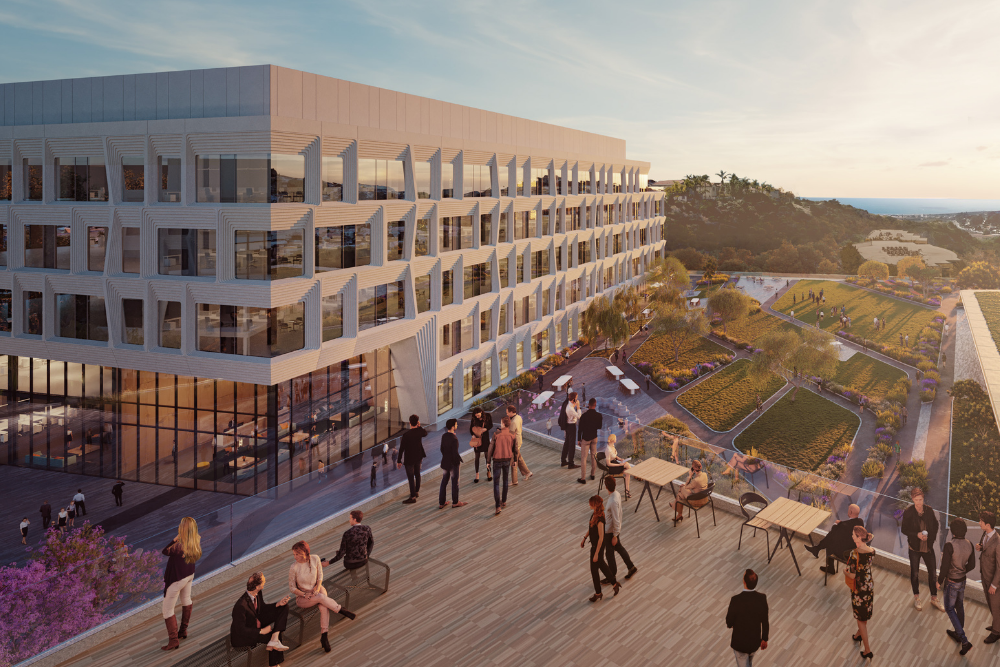 What has been the biggest challenge for you to overcome in your career?
I've been very fortunate that I've had CEOs, partners, and colleagues who really have given me the flexibility to balance work and family life, even prior to COVID and hybrid work schedules. It's still always a challenge for women in this industry, and having a supportive network is critical. As you get higher up in leadership, you're balancing this decision-making process of family versus career. And it's not just children and childcare: as you get older, your parents get older, and maybe you have to take care of them. I would like to see more policies that benefit and allow for the needs of women and families. You really need vision from the top, and allyship that recognizes the importance of work flexibility leading to greater productivity.
What is one thing that a life science company can do to work toward having a more diverse and inclusive workplace?
I think the first step is to define what 'diverse and inclusive' means to your company culture. There is not a one-size-fits-all approach but creating a culture that embodies diversity and inclusion requires active engagement from leadership. It does not happen without open dialogue among leadership, HR, and staff. It requires internal champions who make diversity and inclusion a core pillar of the company's goals and missions. Creating a culture where employees can share their feedback and thoughts, and encourages hiring managers to step outside of traditional pathways for recruiting and retention.
I was working with an engineering company that said, 'We don't hire any female engineers because we can't get any female candidates to apply.' When I looked at the job description, it sounded like a fraternity. It did not surprise me they didn't get the candidates to apply. My advice is to look at how you represent the opportunity: your words and how you represent your core values are what is coming across to your prospective team members and staff.
There have been times when I wasn't the one advocating for my seat at the table, it was my partners advocating for my seat at the table. In one example, there was a picture of the management team for our website and I wasn't in the picture; it came out with just the guys. One of my [male] partners said: 'We have to retake the picture with Susie in it!'
I also am very cognizant of thinking: 'Now that I have this seat at the table, how do I make room for others?'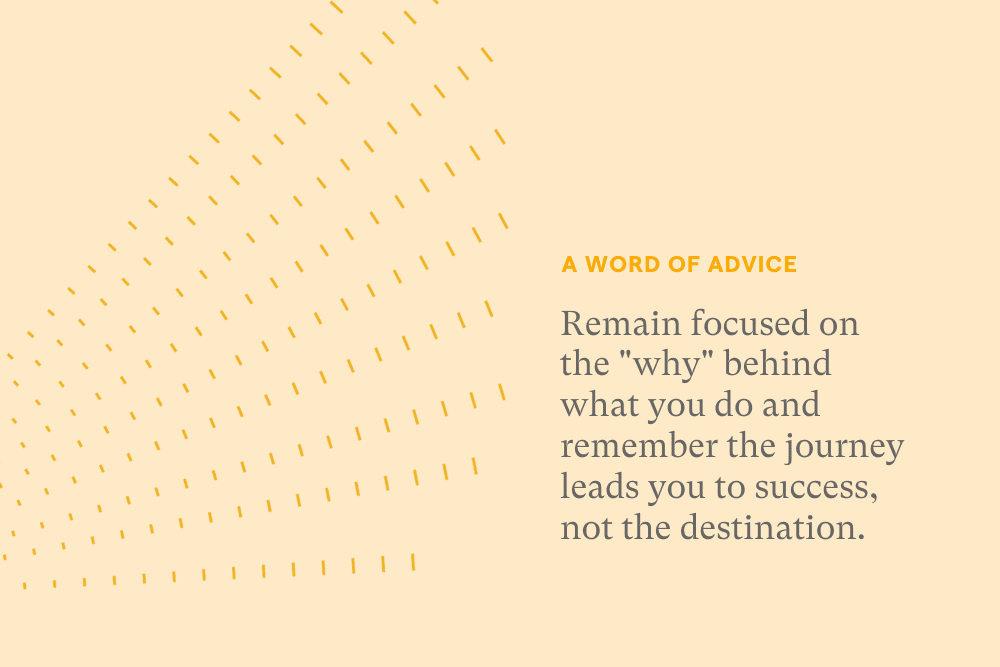 What does Asian American and Pacific Islander Heritage Month mean to you, and why is it important that we celebrate it?
My first trip to Asia after having left when I was two years old, was when I was in my thirties. I remember walking in department stores and seeing myself in the advertisements—my mind was blown. There was representation, which I didn't see growing up here in the U.S. for a long time—that visual representation of what beauty could mean for an Asian person, what success could look like. For me, celebrating that for the community and just being able to showcase that—not the stereotypical perspectives that are often seen. I think there has been some great shifts in recent years, but there are still opportunities to showcase the best of Asian Americans and Pacific Islanders.
Over the past couple of years in the U.S., we are starting to see a number of Asian Americans in positions of leadership, in government and innovation, and even examples of great role models. Showcasing that to the next generation makes me proud of my heritage and history. We come from different places, we're all unique, but it should be celebrated. These themes bring people together, and that is also what should be celebrated.
What's the greatest piece of advice you can give to future life science leaders?
Remember your core mission, why you are doing what you do. Anchor to the 'why'—not to a particular title or role, but to how the opportunity or position is a stepping stone to where you want to be. Seek out mentors to help guide you through the journey, and always keep in mind that success and leadership are not a destination, but the experiences you learn along the way. Every interaction is a seed—cultivate it and see where it may lead, sometimes to unexpected and amazing opportunities.