February 17, 2023
Member Spotlight: Charles R. Drew University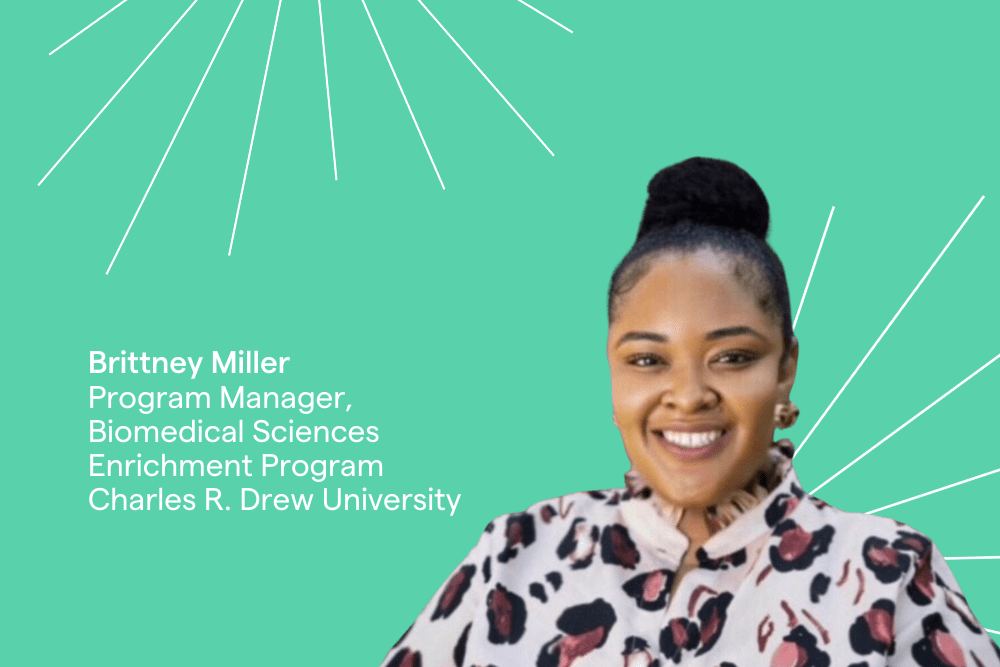 Brittney Miller is Building Bridges and Cultivating Innovative Pathways to Life Science Careers for Students at the Only Historically Black Graduate Institute in California
The Charles R. Drew University of Medicine and Science has the distinction of being the only Historically Black Graduate Institute (HBGI) in California, and has developed renowned nursing and medical school programs since its founding in South Los Angeles in the 1960s. Named after the surgeon who developed the techniques we use today for large-scale blood donations and banks, the university's founding mission is to close equity gaps in healthcare, both in its local community and around the country, as well as diversity issues within the field. One long-term solution that the school recently created to address the lack of diversity in the life science workforce is its new Biomedical Sciences Enrichment Program, which exposes students to career possibilities in clinical research and biotechnology, and pairs them with mentors. Earlier this month, students enrolled in the program spent two days in San Diego with staff from Biocom California's Generation STEAM touring the headquarters of Illumina, Neurocrine Biosciences, Vertex Pharmaceuticals, and Avidity Biosciences.
In celebration of Black History Month, we are highlighting the new program at this historic institution and the architect behind it: Brittney Miller, Director of Program Development of the Biomedical Sciences Enrichment Program. She spoke with us about the importance of community engagement, how to be an ally and support diversity, and what the life science industry can do to better pave the way for minority students and the next generation of scientists.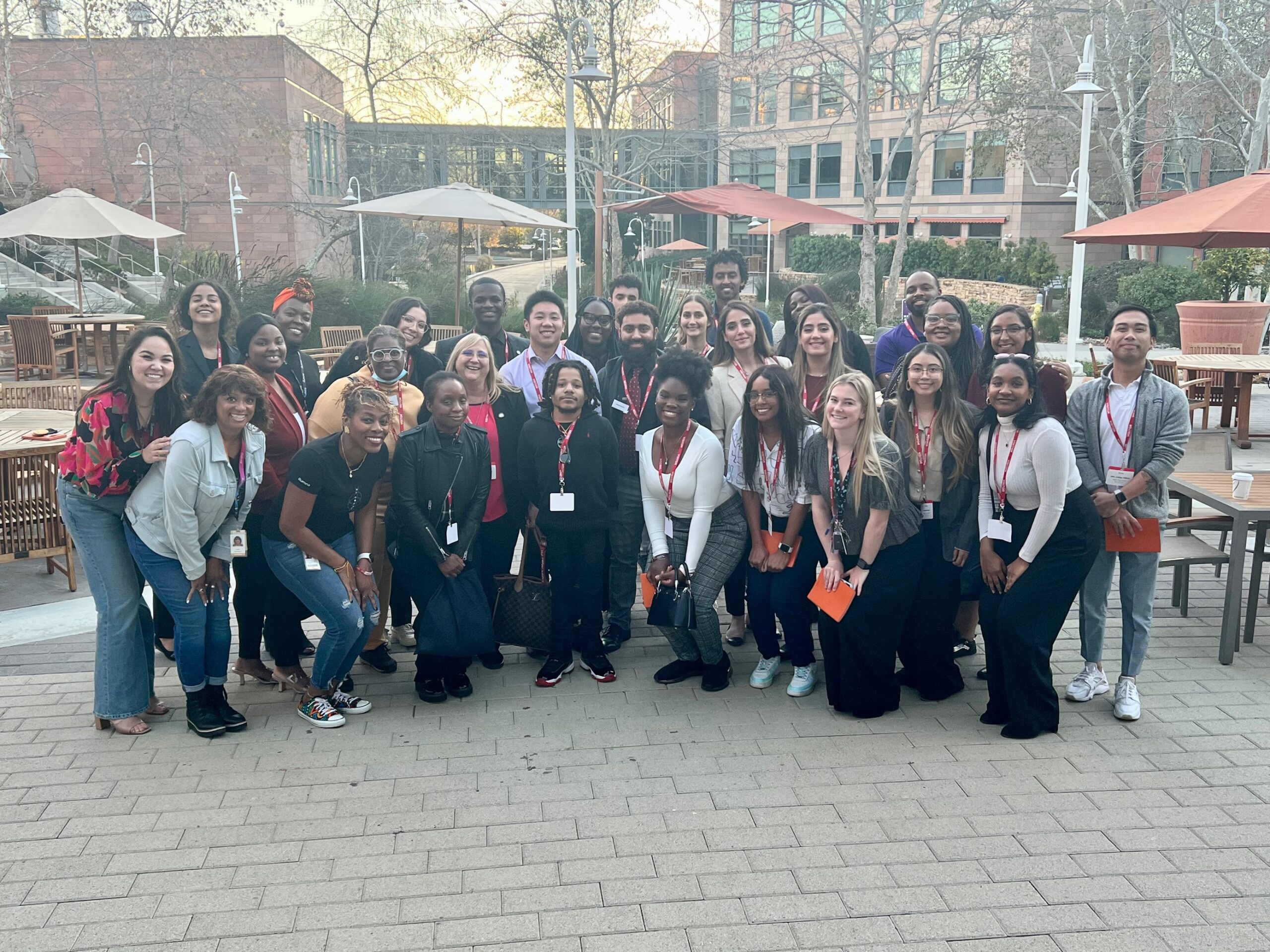 Can you give us an overview of the Biomedical Sciences Enrichment Program?
The Biomedical Sciences Enrichment Program (BSEP) was created to expose students to the vast career pathways in the biotechnology industry. We created curriculum around foundational research skills, then students are paired with mentors who are industry professionals. The goal is to have those professionals provide career development resources and opportunities, such as a chance for the students to present their research, and provide internship and workforce opportunities.
The program serves as one way to diversify the talent pipeline within some of the partner companies that we have within the biotech sphere, but also to expose our students to these companies. The opportunities they have within the biomed and biotech industries can serve as a vehicle to begin to end health disparities that affect minority and underrepresented communities. I don't think that our students had the previous awareness of this, and the objective of this program is to do just that.
When was this program started, and what motivated you to launch it?
I developed this program in 2021. My role at the time at the university was in advancement development, working on building partnerships with corporations and looking for areas to begin to diversify our donor portfolio. I saw there was a lack of diversity within the talent at the companies that we partnered with. Then I came upon an article in the Los Angeles Times that showed African Americans make up less than 6 percent of the workers in the biotech industry, and only 16 percent are Latino.
My undergraduate background is in biology, and I remember the challenges I had within this area. I carry those lived experiences with me every day, of remembering what it's like to be a student and wanting to get into certain professional spaces—and I couldn't get in. For me, seeing those numbers about the lack of diversity and representation in the industry were a catalyst in using the skill set that I've been able to develop over the years, on how to seek a resolution in this area.
I started looking within our own space. I met with Dr. Monica Ferrini, Dean of the College of Science and Health, and spoke with our students. We then had a conversation with the Chan Zuckerberg Initiative, which led to funding support in the amount of $2.5 million for this inaugural program. We also received sponsorship support for the program from Hologic.
What are some of the program's recent milestones?
We launched the inaugural cohort in October and 22 students are part of this first class, which is very exciting. We were invited by the University-Industry Demonstration Partnership—a hub of biotech companies—and they hosted the inaugural HCBU PitchFest. Out of the nine teams from HBCUs nationally, two of Charles Drew's teams were chosen to go to the next round, and our program was selected to submit full proposals for the second annual HBCU PitchFest. The students determined their own research topics and submitted an abstract, and this is an opportunity for them to further their research project and win funding support for their effort.
The abstracts that made it to the national round are: researching the effects of exposure to lingering particles from 'third-hand smoke' [surfaces contaminated by nicotine and cigarette smoke]; and a study to characterize the metabolic pathway of skeletal muscle cells promoted by Vitamin D through an approach integrating matrix-assisted laser desorption ionization-time of flight mass spectrometry (MALDI-TOF MS) and electrowetting-on-dielectric (EWOD) chip technology.
What has been the response from the students?
We kicked off the program with a large orientation at Bioscience LA, and our students have been floored with the opportunity to be paired with some notable mentors within the field. Our mentors are from large companies to startups—including companies such as Neurocrine Biosciences, Kite Pharma, and Arcutis Biotherapeutics—and are entrepreneurs and founders. The program represents the various ways that our students can take their education. This is a vehicle to bring it all together.
It's important to know and to remember your 'why,' and to see the bigger picture of your work. What and who does it impact? How will it change the industry? How will it change the culture? Use that as your motivation.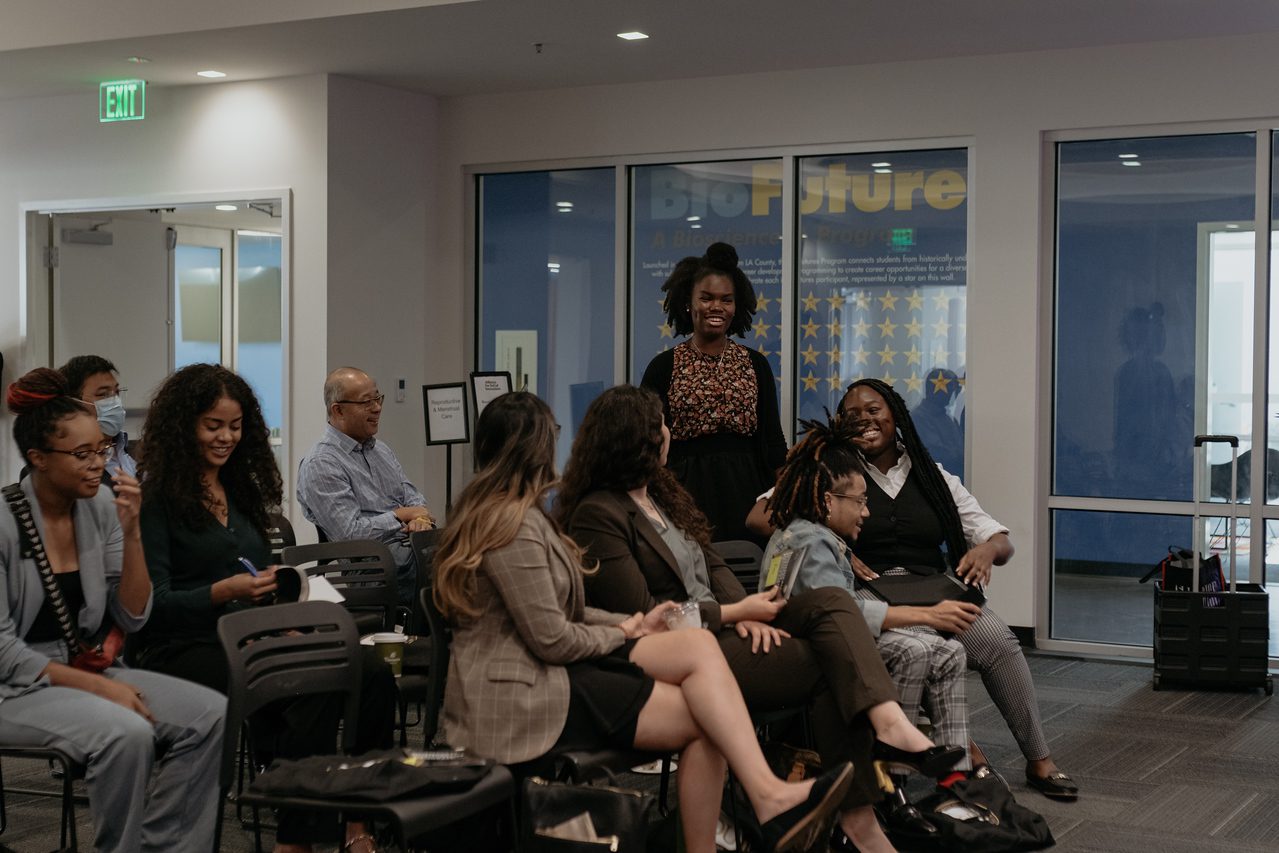 What is your biggest challenge right now?
Our biggest challenge initially was this being a new program—this has never been done at our university. Nationally, I've seen iterations of this program, but I have not seen a full model of what we're trying to do. Another challenge is mentor recruitment: recognizing that professionals have very busy lives, and asking them to be able to give an allotted amount of time and commitment to mentoring and providing career development.
What is the time commitment to be a mentor in the Biomedical Enrichment Program, and why is it so important that leaders in our industry participate in a mentorship program such as this one at Charles R. Drew University?
We ask the mentors to meet twice a month with their mentee, for six months, and we have developed resources to help aid the mentorship relationship. The students provide their short-term and long-term goals on what they want to accomplish, and there are three big objectives for the mentorship: helping to provide insight on the mentees' CV/resume; resume-building skills; and some of our partner companies will be hosting mock interview sessions. Mentors have the opportunity to be a part of that, and also provide a professional development opportunity.
No matter whatever industry that you're in, it's important to be able to see what is possible and to see all the endless opportunities once you decide on a career path. It's even more important for students of color and underrepresented students to be able to see either a mentor that looks like them, or to be able to simply have a connection in the industry, as there's so many trials and challenges in getting in. Systemically, underrepresented groups have been excluded from this industry. For mentees, to have that 'in' with a mentor is just invaluable. Representation is important and advocacy is important, and those two elements together (or even separately) can do more for your career trajectory than you can do by yourself.
As far as allyship, if you are not from an underrepresented background and want to establish ways to become an ally, one crucial component involves recognizing your own privilege and using it to influence inclusion—mentorship is a great vehicle to support these efforts. Being an advocate for someone can be a transformative tool and change someone's career trajectory; advocating on someone's behalf and exposing them to your own networks is paramount.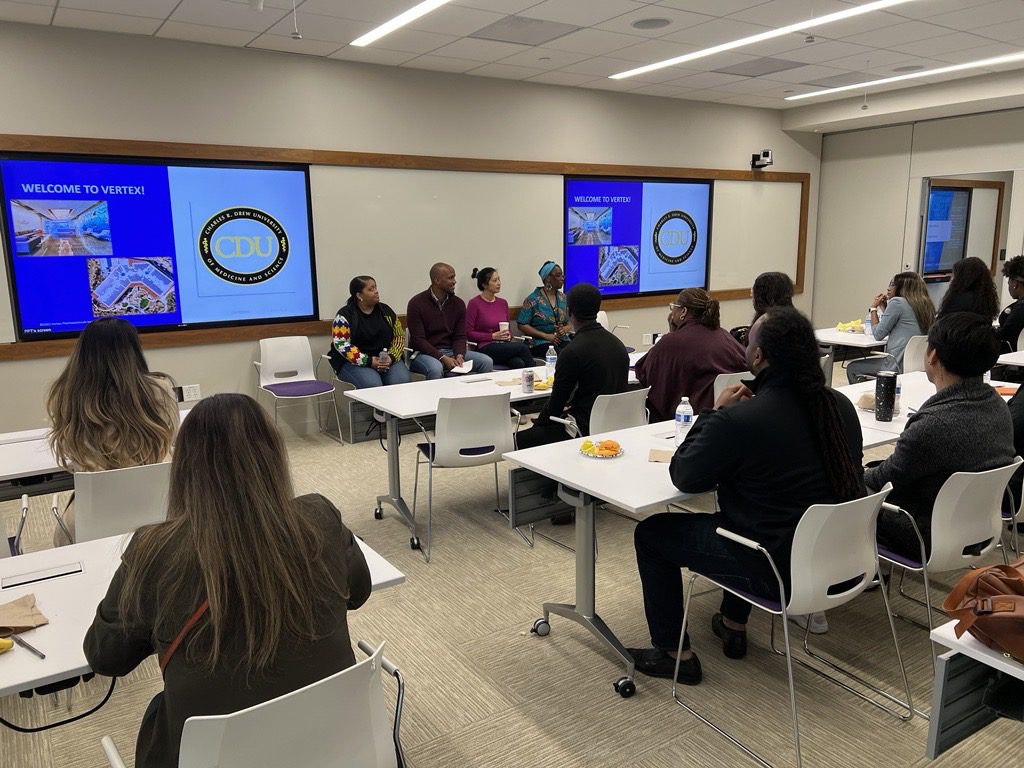 What advice do you have for up-and-coming scientists?
It's important to know and to remember your 'why,' and to see the bigger picture of your work. What and who does it impact? How will it change the industry? How will it change the culture? Use that as your motivation.
What advice do you have for people who are working to overcome imposter syndrome, whether at work or school?
The biggest thing I have learned is that no one—not a single other person on this Earth—is you, and that's your power. You need a lot of self-awareness to understand your skillset and your talents, but no one is you. Once I learned this concept, that's when things changed for me.
What does Black History Month mean to you, and why is it important that we celebrate it?
To me, Black History Month is everything—it's our history, what we have been able to accomplish, and the richness of who we are. It is the appreciation and acknowledgement of our culture and how it permeates all aspects of society. What we've been able to create, from our intellect and from our visions, is absolutely beautiful. I'm so proud to be able to see the advances made by Black people, and specifically in the realm of research and advancement. The story of Henrietta Lacks and where we are because of her is absolutely astounding—the only human cell line able to reproduce indefinitely is known as HeLa cells for Henrietta Lacks—and it remains a remarkably durable and prolific line of cells used in research around the world. When we think of the many medical advances made by Black people, such as Charles R. Drew and within the biotech field, it's amazing and it should be celebrated.
On the other side of that, when I think about the areas where people don't want to share—the years of systemic harm committed against us—I think of the quote by my favorite author, Zora Neale Hurston: 'If you are silent about your pain, they'll kill you and say you enjoyed it.' I know that's such a daunting statement, but it is so necessary to share how we have overcome in spite of this harm and continue to do so. I am excited to celebrate Black History Month, but for me it's everyday of every month because there's just so much to celebrate.