July 19, 2023
Episode 8: Building a Collaborative Incubator Community for Orange County Biotech Startups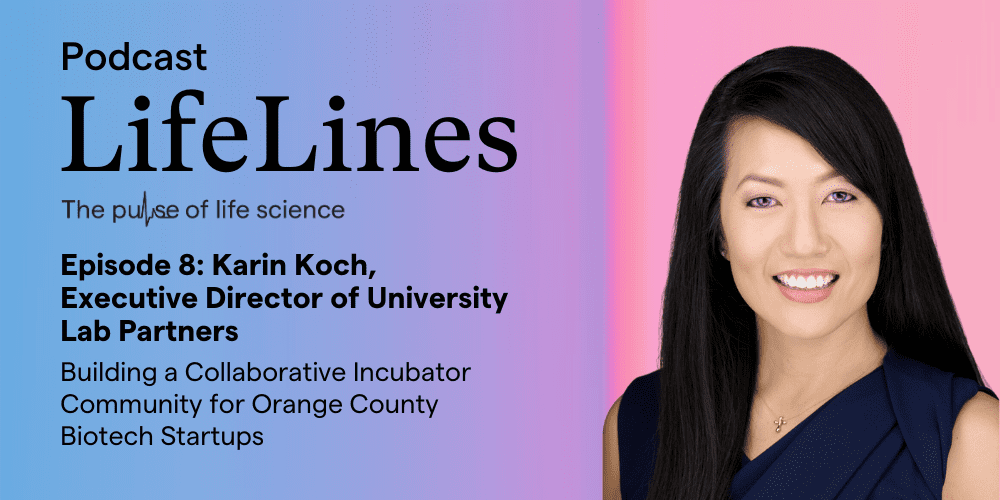 Mention Orange County to the average person and images of Disneyland, Laguna Beach and high-end shopping malls may come to mind. Life science industry insiders know that beyond the county's famous landmarks is a nascent biotechnology hub—more than 63,000 people there were employed by the sector last year, and the number of startups establishing roots in Orange County is growing. In 2020, biotech startups gained a new place to set up shop when University Lab Partners, the first wet lab incubator for biotech and medtech companies in the region, opened near the University of California, Irvine campus. Karin Koch, its executive director, calls it "the Four Seasons of incubators" and says it has helped 70 companies since opening.
Karin says University Lab Partners' approach—which was founded in partnership with UC Irvine's Beall Applied Innovation—is an "all-inclusive concierge model" where startups receive support services in addition to access to labs: event planning, business counseling, networking, and finding a venue when they're ready to graduate. For Karin, directing an incubator goes far beyond collecting rent—it's about offering startup founders a sense of community and helping them on their journey. Having been one of the few women in an electrical engineering class while in college, she knows first-hand what it's like to feel isolated. "Being a CEO or owner of a company, it's a very lonely place. Not a lot of people can relate to you," she says. This is where incubators like University Lab Partners come in—they can connect founders with like-minded people who can serve as a sounding board and co-collaborator. "Part of the reason why I'm so impassioned about the work is so that women and underrepresented minorities in STEM really have this safe social network…ULP is focused on life sciences and there are severe disparities in STEM (and especially the life sciences) that we need to highly focus our efforts there."
Today, University Lab Partners has a second location in Aliso Viejo and houses a total of 42 companies that will hopefully stay in Orange County when they outgrow the incubator, as many previous tenants have. We hear more from Karin about the larger role (and responsibility) incubators play in a city's economic development and the diversity of the STEM workforce, University Lab Partners' involvement with an outreach program for high school students, and how a company's graduation day can feel like a parent sending their child off to college.
Learn more about Karin Koch and University Lab Partners.
Interested in becoming a member or joining us on the LifeLines podcast? Email [email protected].
Host: Bob McGriff
Executive Producer: Marie Tutko
Senior Producer: Vincenzo Tarantino
Associate Producer: Lauren Panetta
Program & Research Coordinator: Katy Burgess
Transcripts By: Jessica Schneider
Senior Director of Marketing: Heather Ramsay
Graphic Design By: Raquel Papike