August 2, 2023
Episode 9: Engineering Antibodies Through AI and Machine Learning to Accelerate the Design of More Effective Treatments for Patients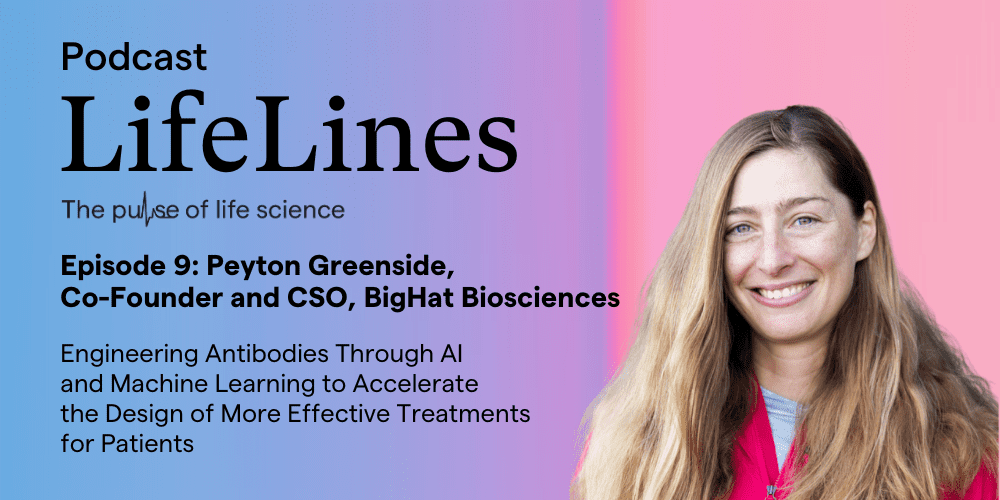 Decades ago, the terms "artificial intelligence" and "machine learning" were associated with rogue robots and nefarious computers in sci-fi books and movies. Today, these technologies are a part of our everyday lives and as innocuous as predictive text appearing in a messaging app, a robot on wheels delivering food to your table at a restaurant, or a student using Chat GPT for writing prompts. But what applications do AI, big data, and machine learning have in life science?
On this week's episode of LifeLines, our final episode of Season 1, we chat with Peyton Greenside, Ph.D., co-founder and CSO of BigHat Biosciences—and how her company harnesses the power of AI and machine learning to discover and engineer antibodies to accelerate the development of next-gen drug therapies for infectious diseases, oncology and inflammation. A previous Catalyst Awards winner and a pioneer of deep learning applied to life science problems, Peyton also shares the challenges that come with working with this unique technology and what it could mean for the future of drug discovery.
BigHat was founded in San Mateo in 2019 and has since forged partnerships with big names in life science—Amgen, Merck, Bristol Myers Squibb—for its AI-guided antibody design platform. BigHat describes their technology as integrating a high-speed wet lab with machine learning to drive the search for better antibodies, at a much faster rate than current technologies allow. Peyton says the platform can address existing limitations in molecular design by substantially shortening lab-cycle times for experiments and enabling increasingly sophisticated designs to address diseases with significant unmet need.
"It's really, in short summary, to close the loop as quickly as possible between the lab and the computational side to be able to iterate quite rapidly and develop novel antibodies for addressing these diseases," Peyton explains. "The goal of the company was actually to realize the potential of machine learning in life sciences—where I think there's been a ton of excitement—and I think we're still at the early days of 'how are the impacts actually being realized from the potential of this technology?'"
Although BigHat is taking a futuristic approach to drug discovery, Peyton says we can't forget about the human element and connection needed within life science companies to unlock technology's potential. She and BigHat Co-Founder Mark DePristo launched the company just one year before the pandemic lockdown and navigated maintaining a positive company culture and camaraderie among staff when everyone couldn't physically be together at the lab. Learn more about Peyton Greenside and BigHat Biosciences.
This concludes Season 1 of the LifeLines podcast! Thank you for joining us on this journey into the stories behind the life science innovation happening in California.
Interested in becoming a member or learning more about this podcast? Email [email protected].
Host: Chris Conner
Executive Producer: Marie Tutko
Senior Producer: Vincenzo Tarantino
Associate Producer: Lauren Panetta
Program & Research Coordinator: Katy Burgess
Transcripts By: Jessica Schneider
Senior Director of Marketing: Heather Ramsay
Graphic Design By: Raquel Papike