June 7, 2023
Episode 5: Creating a Bridge from Higher Education to Real-Life Science Application as a First-Ever Female Dean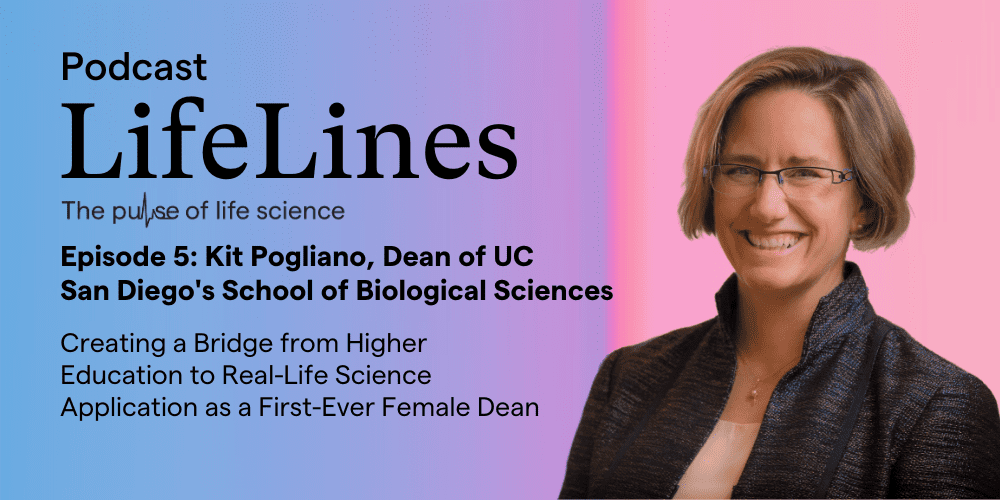 Kit Pogliano says her colleagues from graduate school would have voted her the least likely person in their class to go into university administration, let alone become a dean of an entire school. But after building a 20-year career as a professor, researcher, and leader at University of California, San Diego, she became the first female Dean of the School of Biological Sciences—which U.S. News & World Report ranks as No. 7 in the world for its biology and biochemistry programs—in 2018.
Kit's research focuses on how bacteria cells are organized, grow, and interact with antibiotics and ways to harness their molecules to develop new therapies. She's not only passionate about studying the ins and outs of how these tiny microorganisms operate, but how the broad ecosystem of the life science industry in her community thrives. She says higher education institutions play a bigger role beyond advancing science: they drive regional economic development and social advancement and are an engine for developing a creative life science industry.
On this episode, we learn how UC San Diego is cultivating a diverse group of future scientists and researchers. It's partnering with private companies—such as Illumina and Thermo Fisher Scientific—to provide students with applicable job training, as well as give professionals access to the latest cutting-edge scientific equipment. The recent launch of the Goeddel Family Technology Sandbox, a new facility on campus, is an example of this goal of creating pathways to careers and opportunities coming to life, as well as a federally funded community project to build training modules and boot camp programs.
We dive more into Kit's research and how her biotechnology company, Linnaeus Bioscience, is working with the Gates Foundation and the Tuberculosis Alliance on mode of action studies on newly discovered anti-tuberculosis drugs. She co-founded the company with her husband, Joe, and attributes their "extreme partnership" to her career and academic success. Kit shares why she believes strongly in a "people-first" leadership style, and how overcoming a family illness early in her career shaped this philosophy.
Learn more about Kit Pogliano's research and lab. For information on UC San Diego's School of Biological Sciences, visit their website.
Interested in becoming a member or joining us on the LifeLines podcast? Email [email protected].
Host: Bob McGriff
Executive Producer: Marie Tutko
Senior Producer: Vincenzo Tarantino
Associate Producer: Lauren Panetta
Program & Research Coordinator: Katy Burgess
Transcripts By: Jessica Schneider
Senior Director of Marketing: Heather Ramsay
Graphic Design By: Raquel Papike