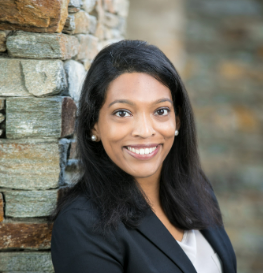 Senior Director, Business Development
Visali Ramanathan joined Genentech in 2015 and as a member of the global Pharma Partnering team has helped grow Roche and Genentech pipelines by sourcing and executing external collaborations in innovative areas of science to discover and develop new medicines. In her role as a Senior Director Business Development Lead, Visali leads cross-functional diligence and deal teams to establish long-term and symbiotic partnerships where both parties can bring their strengths and benefit from each other in the most optimal way to deliver new therapies for patients.
She has led BD activities, including licensing deals, collaborations, M&A, and search and evaluation in the areas of Immunology, Infectious Diseases, Oncology, Research Technologies, Neuroscience, and Ophthalmology. In 2022, Visali became a Project Team Lead in Genentech Research & Early Development (gRED), leading a cross-functional team to bring one of Genentech's oncology programs into Phase 1 clinical trials. This role, in addition to her ongoing BD responsibilities, has allowed her to expand her understanding of, and contributions to, drug development at Roche and Genentech. 
Visali began her career working at The Frankel Group, a life sciences strategy consulting firm, based in their New York office. Visali primarily advised Fortune 500 pharma companies on how to build out an R&D portfolio that would fit their risk/reward profile. Visali received her A.B. in Molecular and Cellular Biology from Harvard College and her M.B.A. from The Wharton School.