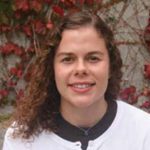 Karen Christman, Ph.D.
Professor of Bioengineering, University of California, San Diego; Scientific Co-founder, Ventrix Inc.
Karen is working on many fronts to improve quality of life for cardiovascular disease patients using biomaterials-based regenerative medicines. A prolific scientist in the field of tissue engineering and regenerative medicine—with more than 70 publications and 100 invited talks to date—Karen also is a visionary entrepreneur and devoted mentor to dozens of current and former students at UCSD. As co-founder of Ventrix, Karen guided initial scientific research for a novel biomaterial scaffold and advanced it into a product, VentriGel, that's now being tested in the clinic for cardiac repair. Her work has been recognized by many well-known institutions including the National Institutes of Health, Wallace H. Coulter Foundation, the American Heart Association and the Tissue Engineering and Regenerative Medicine Society.