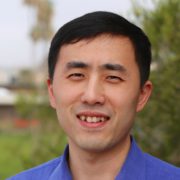 Long Cai, Ph.D.
Co-founder, Spatial Genomics; Research Professor, Caltech
Long Cai is a Professor of Biology and Biological Engineering at Caltech and his lab pioneered the field of spatial genomics. Dr. Cai has received the NIH New Innovator Award, Transformative Award, Paul G. Allen Frontiers Foundation Distinguished Investigator Award.
Dr. Cai holds an AB/AM in Physics and Chemistry as well as a Ph.D. in Chemistry from Harvard College.