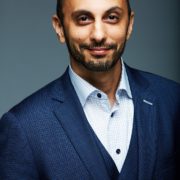 Stephen Fiacco, Ph.D.
Co-founder and Chief Executive Officer, EvoRx Technologies and Canvas Pharma
Dr. Fiacco is a founding member of EvoRx and serves as CEO where he oversees its general operations and business development. In this role, Dr. Fiacco has advanced the business through multiple negotiations of collaboration and license agreements with large and small pharmaceutical and biotech companies. Additionally, his team has received both Phase I and Phase II NIH SBIR grants and contracts. Dr. Fiacco is actively involved in the Los Angeles biotech community serving on the advisory board of Biocom LA and had previously served on the board of directors at Innovate Pasadena.
Prior to founding EvoRx, Dr. Fiacco was an integral member of the scientific team involved in inventing EvoRx's platform technology and has been listed as an inventor on 5 patents and an author in 4 related publications. He earned his B.S. in Creative Studies Chemistry at UCSB, his M.S. in Biochemistry and Molecular Biophysics at Cal Tech and his PhD in Chemistry in the lab of Dr. Roberts at USC.