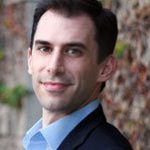 Thomas Lipkin, Ph.D.
Head of New Ventures, University of California, Los Angeles Technology Development Group
Thomas has his finger on the fast pulse of L.A.'s biotech startup scene. Through his role at UCLA, he ushers early-stage academic research from bench to market, requiring him to work closely and productively with UCLA faculty, graduate students and post-docs. His New Ventures group also provides services through its "Startup-in-a-Box" program, which supports portfolio companies that have licensed intellectual property from UCLA; offerings include legal, insurance, banking and even human resources. "The Milken Institute recently ranked UCLA No. 1 nationally in our number of startup companies, which speaks to the entrepreneurial nature on campus and helps seed the future of biopharma here in L.A.," says Thomas, who has a Ph.D. in cell biology and pathology. Thomas says he's on a constant hunt for talented entrepreneurs and consultants for UCLA projects. "While building a stronger life science community here in L.A. is challenging, I'm excited to know there are talented and similarly-minded people here," he says.