Advocating Against Drug Price Setting
What is H.R.3?
H.R.3 is a foreign reference pricing measure introduced in the House of Representatives. Passing H.R.3 threaten California's world-class innovative biopharmaceutical sector, decreasing the development of new treatments and cures for patients around the world. Biocom California strongly opposes H.R.3 and has advocated against its progress on behalf of our member organizations.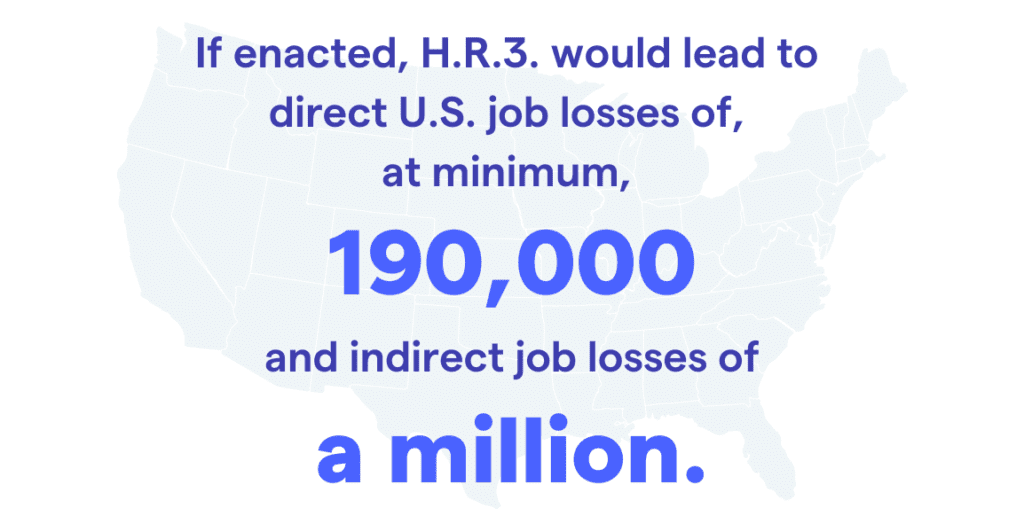 What is Foreign Reference Pricing?
Foreign reference pricing means setting prices for innovative medicines in the U.S. based on the prices that foreign countries with different healthcare systems pay. Importing price controls would threaten the development of new treatments and jeopardize patient access to medicines here in California. In fact, if price controls had been in effect over the last 10 years, California biotechnology companies would have brought to market on only 2 new medicines as opposed to the 16 that were developed. With the current system, patients in the U.S. have access to twice as many innovative medicines as patients in foreign countries and it takes as much as 10 times longer for patients in those foreign countries to have access to those treatments.
Biocom California Takes a Stand Against H.R.3
Vital Transformation Study
Total Market Impact on California's Innovation Ecosystem: This study, released in March 2021 by the international health economics firm Vital Transformation, assesses the impact of price setting, as proposed by H.R. 3. The study was co-commissioned by Biocom California, CLS and CSBA and released in March.
Take Action
Tell Congress to oppose H.R.3, the Lower Drug Costs Now Act, which would base the prices of innovative medicines sold in the U.S. on prices in foreign countries. Click the link below to send a pre-crafted, editable message to your district's elected officials. Thank you for your support!
Press Release from Biocom California
On March 24, Biocom California and California Life Sciences (CLS) released data analyzing the potential impact of international reference pricing (foreign price controls) on California's biopharmaceutical innovation ecosystem, including investment into small company capital formation and the new drug development pipeline. "These new data unequivocally show that importing foreign price controls into Medicare will slash investments in research and development, dramatically reduce the pipeline of new cures and treatments, and ultimately hurt the very patients who are most vulnerable to both chronic and life-threatening diseases," said Joe Panetta, President and CEO of Biocom California.
View Release
The Council of State Bioscience Associations (CSBA) wrote a letter signed by 40 state associations, including Biocom California, stating that enacting international reference pricing will threaten patient access and choice, cede America's global leadership in biomedical innovation, and will have a disproportionately disastrous impact on small, emerging biotech companies.
34 patient advocacy organizations signed a letter urging Congress to keep any international reference pricing proposals out of drug pricing reform legislation, stating that it will have an outsized negative impact on people with Alzheimer's disease and related dementias.
The National Council on Disability (NCD) wrote to policymakers pressing them not to rely on foreign drug prices that rely on the quality adjusted life year (QALY), as this cost-effectiveness measure devalues the lives of people with disabilities and chronic illnesses by limiting access to life-sustaining and lifesaving drugs and treatments as referenced in their report.
Familia Unida Living with MS (Familia Unida) along with 21 other California organizations signed onto a letter expressing strong opposition to H.R.3 with their concern that patients will face significant access restrictions and delays to new treatments as seen in other countries where governments have set artificially low prices for medicines.
The Board of Directors of SAMCEDA conveyed grave concern and opposition to the re-introduction of H.R.3 citing the impact it would have on the biotechnology industry that was birthed in San Mateo County and employs over 110,000 individuals in the Bay Area alone.
Biocom California's CEO, Joe Panetta, signed with 21 other California business associations urging Congress to reject the price setting bill, H.R.3, that would stifle medical innovation and hurt patients in need.
June 3 | H.R.3 and Patient Access: Webinar for Legislative Staff
Biocom California co-hosted a webinar with patient organizations and advocates to share their perspective on H.R.3 and how it would affect patients' access to medicines, including older and sicker populations, and those with disabilities.
June 10 | The Impact of Federal Drug Pricing Proposals
Biocom California's Director of Federal Policy and Government Affairs, Laure Fabrega, joined a panel of speakers for a legislative briefing hosted by the California Partnership for Access to Treatment to discuss the impact of drug pricing proposals such as H.R.3.